---
on the fly: How have global airline capacity trends really been impacted by the pandemic?
SUBSCRIBE TO ON THE FLY
What insights do the latest Cirium data uncover about the impact of the pandemic on global airline capacity levels? The first graph below visualizes the dramatic fall in worldwide airline capacity during the Covid crisis. It also makes clear that total capacity hasn't yet fully recovered to pre-crisis levels. The orange line shows the annual trend for available seat miles (ASMs), which consistently grew at a faster pace than the number of flights, shown by the blue line. Between 2010 and 2019, annual growth in the number of flights was 3% while annual growth in the number of ASMs was double that, in other words 6%. The reason behind this? Flights on average were departing with more seats and flying longer distances.
Prior to 2020, the last year in which worldwide airline capacity declined was 2009, during the global financial crisis. That decline, however, was modest compared to the dramatic collapse of flying during Covid. Capacity is currently experiencing a sharp V-shaped recovery, with flights and ASMs up 26% and 46%, respectively, in 2022.
Of course, there are variances in the trends by region. Note the difference below between the evolution of the US and East Asian markets. In the US, seat capacity levels never even recovered from where they were prior to the global financial crisis. The post-Covid recovery, however, has been rapid. East Asia, by contrast, saw very rapid growth during the 2010s, averaging about 8% a year for ASMs. The region's post-Covid recovery, though, has been muted so far.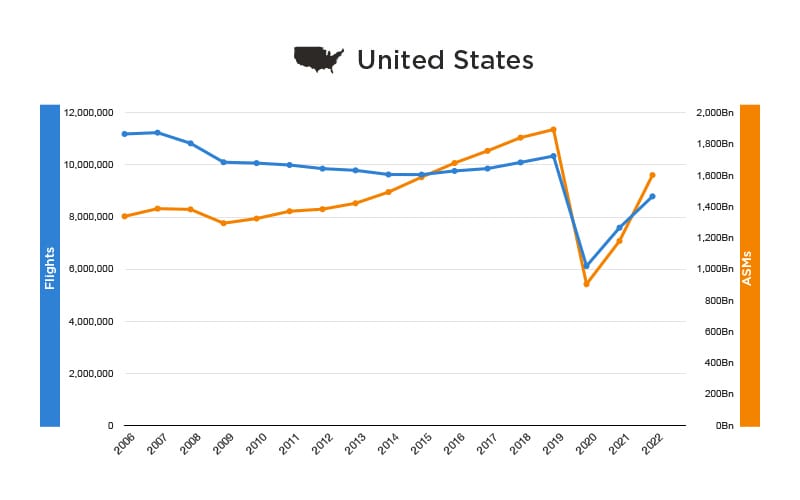 NEXT ON THE FLY: Which airports will gain and lose the most long-haul international capacity in Q2? 
Never miss an on the fly story. Sign-up to receive an email notice when a new story is published.
See more aviation analytics on the fly posts, here. For a closer look, schedule a demo.
---