DATA SUPPLIERS
Airlines, airports and third party providers —
expand distribution and ensure your data is accurately represented in the market with Cirium's data distribution services
Cirium is the number one source of aviation and air travel data
Cirium data powers thousands of industry touch-points for travelers such as:
airports
airlines
third-party travel websites
mobile travel applications
global search engines
travel aggregators
freight frowarders
BECOME A CIRIUM DATA SUPPLIER, CONTACT US
FOR TRAVEL COMPANIES INTERESTED IN PARTNERSHIPS, CLICK HERE
Cirium covers over 97% of all global commercial flights, distributes data and information on 7 million flight events weekly, 100,000 schedule changes daily, tracks 70 million itineraries per year, analyzes 300 billion USD worth of airline tickets and values 5.3 trillion USD aircraft assets per year.
Cirium has the largest and most comprehensive fleets database in the world, covering over 400,000 individual aircrafts. We backdate fleet data to 1947 on individual aircraft events to include their entire lifecycle.
Only Cirium can ensure the broadest, most timely, and accurate flight information across your valuable customer touch points, ultimately reducing passenger handling and communication costs, and improving your passengers' travel experience.
Cirium's Data Suppliers
Cirium partners with organizations such as Airlines, Airports, GDS, Positional Providers, OEMs, Lessors, Regulators, Government Agencies, Media, and through our aviation research teams.
Cirium has dedicated Airline and Supplier Relations teams which work with over 800 airlines and third-party providers for the direct contribution of schedules, minimum connect time (MCT), real-time flight status information, and fleets data. We put a name and face to your data supply and bring a personalized touch to data distribution.
Cirium helps organizations get critical data across the travel ecosystem when they need it. For Airlines, Airports and Third-Party Vendors, sharing aviation's fleet data, schedules, minimum connect times (MCTs), flight status information, and aircraft seat configurations benefits your organization.
Ensure consistent, accurate flight information across channels for passenger convenience
We power global search engines, travel management companies, online travel agencies, freight forwarders, airports, and leading traveler app developers.
Cirium reaches the largest audience more than>35% of global travelers in the aviation industry each year. Partnering with us reduces costly communication errors and passenger handling costs for your travelers.
Simplify and secure the data integration and distribution process to the travel ecosystem
Data integration is simple with Cirium. Our data experts ensure your data is processed to our stringent standards, protecting your source of truth to the industry, maintaining data integrity across the processing lifecycle. We perform more than 40 different validation steps, ensuring your data remains accurate, timely, and complete across all channels Cirium supports and there are no issues with the integrity of the data provided.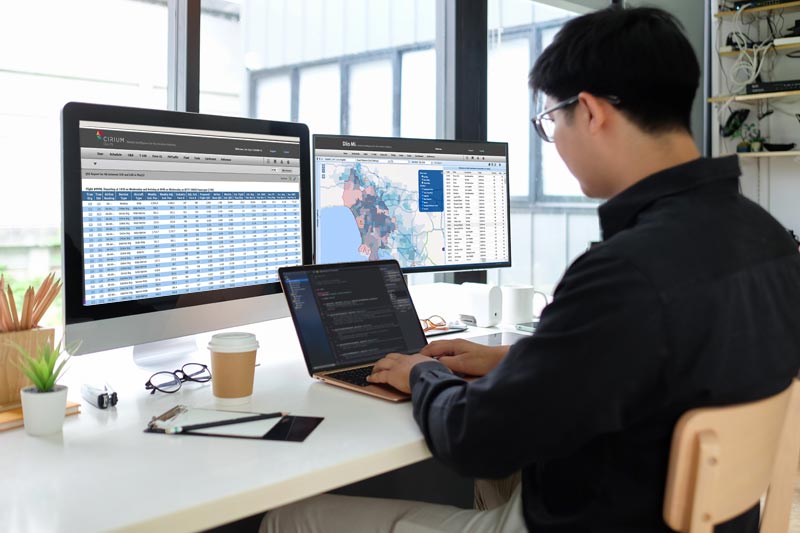 Cirium is backed by RELX, one of the largest names in data security. We ensure that by sharing your data with us is safe and compliant and in accordance with data protection laws globally.
Enhance your brand through partnering with a neutral, trusted market leader for On-Time Performance (OTP) reporting
Cirium has been the leading reference for OTP reporting to the industry for over a decade. The data analyzed in Cirium On-Time Performance Report is derived from The Cirium Core—containing more than 300 terabytes of information from over 2,000 data sources. Ensure Cirium accurately tells your story to the industry, by providing Cirium with a direct data feed.
Fuse and enhance your data with Cirium solutions
Sharing your data with Cirium allows you to benchmark against competitors, aiding in operational and planning efficiency by providing a 360 degree view of flights.
We fuse together multiple datasets to create a rich picture of a given flight, aircraft history, an event, forecast analysis and alike, to provide powerful insights reaching key industry stakeholders. Cirium's insights and solutions fuel decision making within aviation.
Enrich your data by combining it with our datasets to reflect the highest levels of accuracy and completeness
Cirium delivers accuracy and value for your data across our suite of products and services. The Cirium Core allows prospective partners, suppliers, and investors to understand your business with the most up-to-date and accurate data available to the industry.
SUPPLY DATA TO CIRIUM
Contact us with questions or if you are interested in providing data to Cirium.
Data supply is complimentary and we prohibit the use of our flight information data for (EC) No 241/2004 claims.
Case Study: EDIfly and an Airline Data Supplier
We are pleased to announce we have successfully integrated our first Airline Data Supplier (a global commercial airline brand) via EDIfly.
Cirium is partnering with innovative technology companies to disrupt legacy solutions in the marketplace. EDIfly is a message broker which enables airlines, ground handlers, passenger and cargo system providers, trucking and more, to securely exchange operational messages without volume-related charging and with complete tracking.
Cirium partnered with a major global airline and EDIfly to save costs for the airline, whilst enabling a seamless integration of Airline Schedule and Flight Status data with the travel ecosystem. The airline, like many others in the industry, sends millions of "Type B" messages to convey vital information such as passenger booking/reservations, air traffic control data, aircraft maintenance data etc. Existing message brokers charge a cost per message character, which could run into millions of dollars for the largest airlines.
To update third parties like metasearch, Online Travel Agencies, Travel Management Companies, travel apps, and global airport signages, the airline had also been sending Cirium schedules data via these "Type B" messages, adding to their costs.
RESULTS
By implementing the EDIfly solution, Cirium was able to make major improvements to the airline's overall schedule and flight status coverage to the travel ecosystem while helping reduce operational costs by eliminating costly data transmission fees.
For airlines that currently circumvent messaging costs of traditional message brokers through manual intervention, adopting the EDIfly solution would allow them to focus on their core activities and reduce effort, streamlining their updates to the travel ecosystem via Cirium.
BENEFITS FOR AIRLINES
Reduced transmission and handling costs- up to a 75% cost reduction
Consistent, timely, accurate flight information reflected in external-facing distribution channels via one transmission method to Cirium
Encrypted, banking-like data security, superior rule-based message routing and monitoring based on IATA standards
Enhance your On-Time-Performance coverage by partnering with Cirium- a leading reference for OTP reporting to the industry for over a decade
Seamless integration of internal and external flight information flow through your core processes, streamlining activities and reducing manual effort