ASCEND PROFILES
Quick aircraft intelligence by airline or lessor
Access a highly visual and dynamic view of an airline or lessor's fleet, based on the most comprehensive fleets and satellite-based tracking data. The Ascend by Cirium module holds profiles on nearly 1,700 airlines and over 300 lessors. Easily summarize insights around airline and lessor portfolios by status, age, ownership and more, via mobile, tablet or desktop.
New satellite-based aircraft maintenance tracking added to Cirium's Ascend Profiles
Monitor and predict future aircraft maintenance events using the new Ground Events feature in Ascend Profiles. Businesses can better understand when and where an aircraft last had a maintenance event and forecast its next visit, identify aircraft transitions and define strategies around how and where maintenance and aftermarket budgets are being allocated by operators or owners. Request a demo with the form below.
Cirium's Ascend Profiles is available within Fleets Analyzer or Dashboard or can be purchased as a standalone product.
Monitor airline and lessor fleets with customizable, interactive overviews and breakdowns
Request further information on Cirium's Ascend Profiles

More aircraft
View all aircraft associated with an airline, not just those that they operate.
Lessors
View the lessor's supplying the airline, and the aircraft on lease from each.
Airlines
View the lessor's clients, and the aircraft each client has on lease.
Ownership
See the airline's fleet breakdown by various types of ownership: unencumbered owner operator, operating lease, finance lease, etc.
Age
A simple average can only tell you so much: clearly view the age distribution across aircraft types to see the full picture.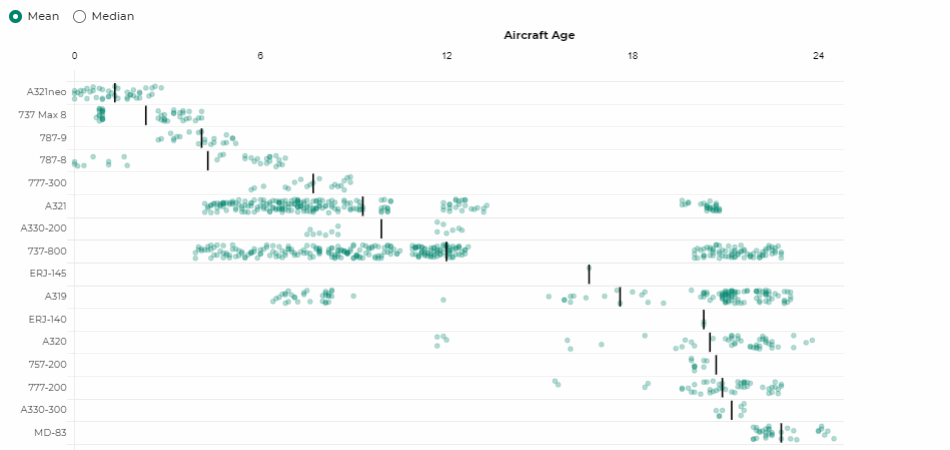 Enhanced Capabilities
Speed
A find-as-you-type list enables you to locate your desired airline or lessor quickly, with the full fleet summary loading in less than 0.2s on most systems.
Grouping, pivoting
Choose the grouping option you prefer from any of the following: manufacturer, family, type, master series and series.
Filtering
Filter by any of the following: operator, status, manufacturer, family, market class, type, engine series and ownership.
Visualizations
With so much more data on the page, it's important that you can spot key information quickly, so each table has an associated visualization.
News
Easily view the latest news on each airline and lessor, gathered by a global team of journalists.
Understand the why
The structured data of the fleet summary gives you the what, but it's the news that gives you the why.
No need to search
Our journalists tag all articles with the relevant airlines and lessors, so there's no need to search.
Convenient
Swipe through your clients' most recent news stories from your mobile while traveling to client meetings.
Discover Cirium's Ascend Profiles
Explore our open-access showcase to discover how Ascend Profiles can provide instant visibility of fleets data today.
Product options
Cirium Ascend Profiles are included with Cirium Dashboard and Cirium Fleets Analyzer. Dashboard clients will access the standard version* and Fleets Analyzer clients the premium version & Lessor Profiles.

All versions are available as standalone products.
*Dashboard clients should contact their account managers if they are interested in upgrading from the standard to the premium version of Airline Profiles.
| Feature | Airline Standard Profiles | Airline Premium Profiles | Lessor Profiles |
| --- | --- | --- | --- |
| News | X | X | X |
| Aircraft status | X | X | X |
| Age | X | X | X |
| Related lessors/airlines | | lessors | airlines |
| Ownership | | X | X |