By Asia Finance Dashboard Editor, Vanessa Gu
Register to download the full presentation document.
---
China's flight capacity returned to 2019 levels in January, with growth expected to continue and surpass pre-pandemic levels by 30% by the end of the third quarter.
However, this is overwhelmingly being driven by domestic travel, while the rebound in international flights remains subdued, according to data presented by Rob Morris, global head of consultancy at Cirium Ascend Consultancy during a Bloomberg Intelligence webinar on China's aviation recovery on 27 June.
"There are issues with aircraft availability, but there are also issues with geopolitics, route rights, politics itself and inter-country relations if you like, and confidence issues," says Morris.
Slow international recovery
Compared to pre-pandemic levels, China's international ASKs in June were down more than 50%, Cirium Diio schedules data shows.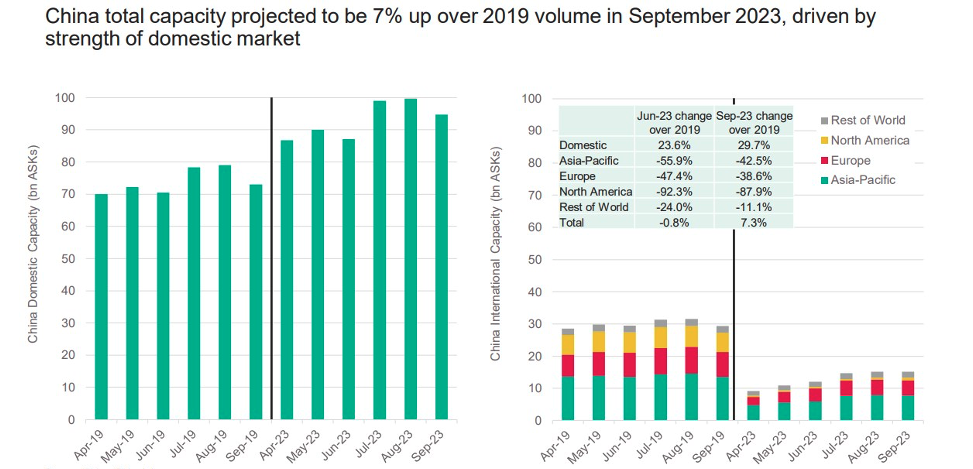 On average, China's international capacity remains 48% down year-on-year in September 2023. US flights, which accounted for 16% of China's international capacity in September 2019, are down more than 80% in September this year, due to route rights and geopolitical issues, says Morris.
Under-utilized fleet
Globally, aircraft utilisation is also back to where it was in 2019, but that is not the case for China across both single- and twin-aisle fleets, which represents a "significant opportunity to further leverage existing aircraft and generate more capacity in the network," says Morris.
Cirium aircraft tracking data shows that China's twin-aisle aircraft are averaging utilization of 7.5 hours per day, well short of the average of around 12.5 hours a day.
Single-aisle utilization is also lower at close to eight hours a day compared, compared to an average of around nine hours.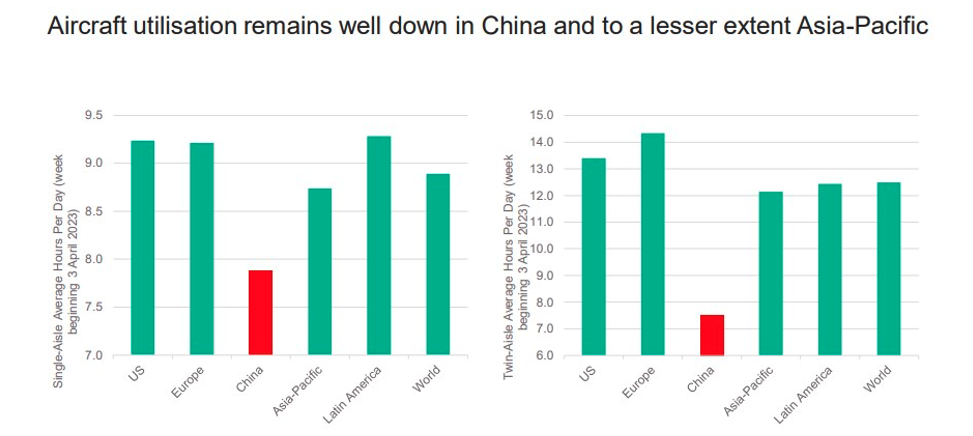 The lower twin-aisle utilization is a "clear indication" that wide-body aircraft are flying largely on the domestic network," says Morris, and it needs to see "effectively more single-aisle or indeed other twin-aisle aircraft, entering the fleet to be able to release the capacity being used in the widebody side and the domestic market to enable the international growth."
Despite those near-term challenges, China will "significantly outpace global capacity growth in the next 10 years," says Morris, adding that the growth is expected to be 1.6 times that of global growth.
This will drive an expected doubling of China's fleet, requiring around 3,800 new aircraft over the next decade.
China's airlines today have only 750 new aircraft in firm order backlog, which indicates that they may have "under ordered effectively" based on the expected demand, says Morris.
C919 on the ascendancy?
As China looks to double its fleet, the Comac C919 is expected to play a significant role in the future growth plans of the country's airlines.
Of the new fleet required, Cirium Ascend expects that 500 C919s will enter service in the next decade, making up 15-20% of new deliveries.
While significant, this is still below the 1,500 deliveries expected by Airbus and 800 from Boeing, says Morris.
To date, there is only one C919 in commercial service with China Eastern, having operated its inaugural service between Shanghai and on 28 May carrying 128 passengers.
By the end of this year, Comac is expected to deliver eight more C919s, based on Cirium fleets data. With Airbus and Boeing facing supply chain issues, there is an opportunity for Comac to gain market share, provided they can "execute right here, right now," says Morris, adding that it will be a challenge to execute better than "established OEMs."
He notes that the Airbus and Boeing narrowbody fleet in China has enjoyed dispatch reliability of over 99%, and airlines will be looking for the C919 to attain a similar level.
The C919 will have to deliver that kind of dispatch reliability of eight-to-nine-hours-per-day-type utilization to be an effective competitor in that market.

Rob Morris
With China's aviation sector, there definitely is opportunity for growth, but there are also significant risks and headwinds. As it emerges from a post-covid world, it may not be business as usual as the world knows it.