Cirium Ascend Risk Analytics
Accurately monitor aircraft utilization and inform strategies to reduce CO2 emissions
Global events have increased the need for aviation financiers to accurately monitor the utilization of aircraft in an asset portfolio. NetZero 2050 targets in aviation have ramped up the need to track CO2 emissions by aircraft type and utilization.

The Cirium Ascend Risk Analytics Fleet and Emissions module enables banks, lessors, non-banking financial institutions and more to monitor and benchmark the utilization and emissions of aircraft in a custom portfolio and compare against other aircraft portfolios and the global fleet averages.

Gain access to the most complete aircraft data and analytics combined with industry standard CO2 emissions estimates via a flexible and easy-to-use configurable analytics tool.
Risk Analytics is part of Cirium Ascend®, providing aircraft analytics to empower businesses around the world to make dial-shifting financial risk, investment growth strategy and market assessment decisions.
Risk Analytics Product Demo
On-demand webinar (live date: 24th August 2023)
Cirium experts showcase the key features of Cirium Ascend Risk Analytics. Learn how to monitor, benchmark, and compare aircraft utilization and CO2 emissions. They demonstrate how to build custom portfolios and more.
Understand and manage the carbon impact of aircraft assets
Use Ascend Risk Analytics to benchmark the CO2 emissions of the assets in your portfolio and have confidence using the most accurate emissions estimates in the industry, as commended by major airlines including American Airlines and Virgin Atlantic. Cirium's emissions models are formulated using the highest number of attributes for nearly all major aircraft types.
Demonstrate actions to lower CO2 emissions of assets
Create unlimited custom portfolios of aircraft to identify the carbon emissions of a portfolio and quantify how next generation aircraft types or aircraft utilization are lowering or could lower carbon footprint, as well as benchmark the emissions against competitors. Analyze the utilization and emissions metrics by month.
Identify potential issues with assets in a portfolio
Gain access to satellite-based tracked aircraft utilization which provides the most complete coverage of all modern aircraft globally and is enhanced by Cirium's proprietary datasets. Cirium matches its advanced fleets data of over 450k unique aircraft across 770 aircraft types with real-time positional aircraft intelligence.
Compare and benchmark aircraft portfolios
Search and filter by multiple attributes including individual aircraft, operator, lessor and more and compare custom portfolios. Benchmark a portfolio and their key metrics against other portfolios or global fleet averages, comparing key utilization and emissions metrics to inform strategies to reduce CO2 emissions and identify low aircraft utilization.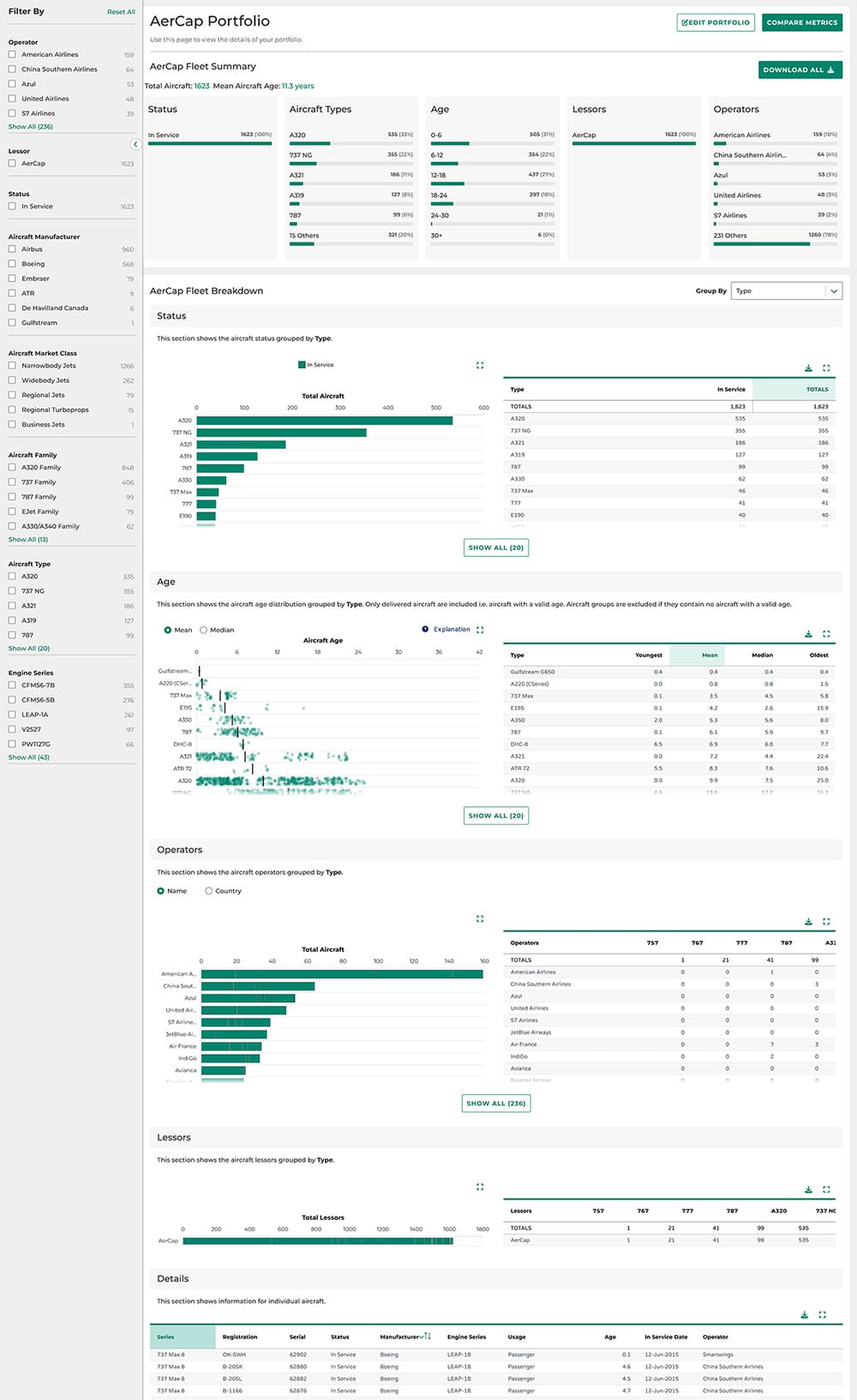 Unrivaled tracked aircraft utilization and CO2 emission analysis
Lessors
Identify asset risk via low utilization signals and lease placement opportunities. Cross-reference using timely and independent third-party utilization data versus operator data. Compare and track utilization and emissions versus competitors. Monitor the emissions footprint of a portfolio and impact of new technology.

Banks
Run due diligence on airlines and the aircraft utilization of a fleet. Compare and track utilization and emissions footprint of aircraft versus competitors. Identify credit risk based on low utilization.

Non-banking financial institutions
Monitor aircraft utilization connected to investments in fixed-income products, lessor/airline equity and specialist leasing funds.

Aerospace
Track aircraft utilization with connected power by the hour (PBH) / leased parts.
What's included in Ascend Risk Analytics, Fleets and Emissions?
Largest fleets database
Data on over 450k unique aircraft records across over 770 aircraft types. Includes data on over 2.4bn aircraft events and over 300 attributes per aircraft.
Fuel burn and CO2 emissions
CO2 emissions outputs commended by American Airlines and Virgin Atlantic for accuracy and endorsed by Zurich Insurance.
Satellite-based aircraft tracking
Integrated tracked hours and cycles data from Aireon, providing almost 100% coverage of commercial aircraft globally.
Unlimited custom portfolios
Create and manage custom groups of aircraft with ease. Saving significant time versus traditional methods of deriving custom insights around aircraft utilization and emissions.
Comparison of metrics
Benchmark a portfolio against other portfolios or global fleet averages, comparing key utilization and emissions metrics by month.
Multi search and filters
Manipulate the data, searching and filtering by multiple attributes including individual aircraft, operator, lessor and more.
30+ person fleets data team
Fleets data experts with decades of experience, making 2.7k new updates for 1.3k unique aircraft on average per week.
Unified Cirium access
Access the highly dynamic tool using Cirium Ascend's common interface, complimentary to other Ascend products such as Fleets Analyzer, Ascend Profiles and more.
24/5 customer support
15-person customer support team with a consistent 90%+ satisfaction score.
Sign up to discover the new Cirium Ascend Risk Analytics tool – get a demo