Cirium carefully analyzes the global impact of COVID-19 (coronavirus), on travel and tourism, by tapping into Cirium Core data sets and leveraging our expert teams. We are providing insights on flight disruption and recovery across the globe and what this means for airlines and airports; reviewing schedules and routes, and, aircraft groundings by airline and aircraft types; and analyzing fleet leasing and aircraft values informatics.
With so many rapid developments, visualizing analytics becomes critical to understanding what is happening across the industry. We want to enable the industry to quickly respond and better solve problems through access to data and actionable insights.
Start by exploring these data visualizations, which showcases what we can see by fusing Cirium data sets such as flight status and flight schedules data.
Cirium Idea: Travel Waiver Activity
Identify when and where travel waivers are in effect.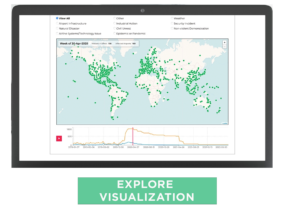 Check which airports are currently covered by a waiver, and to see how long they are covered, giving travel agencies an idea of how many waivers are in effect for any given time period. It also informs airlines how their coverage of waivers compares to the rest of the market.
Cirium Idea: Coronavirus Aviation Impact
Looks at the impact on the domestic and international flights for China since 01-Jan-2020.
Our analyses span aviation sectors and across regions. See below, in-depth insights on the impact of COVID-19.
Aviation Industry:
NEW – The Airline Insights Report: key indicators on the state of aviation recovery measuring monthly flight volume globally and by region airlines and airports, average delay minutes, and aircraft status ("in service" or "in storage").
On-demand Webinar: Transform Aviation with Data, for a New World. (26th August, 2020)
Presenters:
– Nick Ward, Head of OEM Digital Solutions, Rolls-Royce Digital


– Fabrice Valentin,

Head of Global Market Forecast, Airbus
– Bruce Dankberg, Director Portfolio Management, Altavair
– Andrew Doyle, Market Development Director, Cirium
View now.
Post: COVID-19 crisis could lead lessors to 50% fleet penetration
Post: Understanding the impact of COVID-19 on supply and demand, asset values and lease rates.
On-Demand Webinar: Navigating the Flight Plan to Recovery. (held on July 30th.) This webinar looks at utilization figures, a scenario analysis of possible outcomes based on new cases, government involvement and passenger demand and an overview of what the aerospace sector needs to do to support airline recovery. View here.
Video: Disruption Dashboard – How to view aviation changes, cancellations and disruption activity.
News Release: Domestic markets for Asia-Pacific airlines on track for recovery through July, according to Cirium
Travel management:
New post: How corporate travel managers can approach the unused ticket problem.
In-storage fleet:
Flight disruption globally:
Governments:
Video: Cirium expert, Joanna Lu, talks about governmental support to the aviation sector in view of Covid-19.
---
Partner resources:
Elsevier Information Center – While Cirium is working to provide insights into the impact on the aviation market, our fellow RELX analytics company Elsevier has collected relevant articles on Coronavirus.
IATA Health and Safety Resources
WorldAware Intelligence & Resource Center
---
For media enquires about COVID-19, please contact: rachel.humphries@cirium.com or tracy.cheung@cirium.com (APAC)