Bookmark this page for our weekly updates. Follow Cirium on Twitter and LinkedIn to see all of our updates.
---
Cirium weekly COVID-19 aviation industry update – May 20, 2021
Chinese airlines operated approximately 1,000 fewer domestic flights with Airbus and Boeing narrowbodies on May 19 compared with a week prior – measured on a seven-day rolling average basis – with the decline potentially related to small localized COVID-19 outbreaks in Anhui and Liaoning provinces.
All Airbus and Boeing mainline narrowbody types used for intra-country services have seen declines in average daily flight hours utilization since early May, as the number of aircraft tracked in the air at least once per day remained fairly constant at around 2,800.
Despite the recent drop-off in activity, the seven-day average for tracked flights by A320 and 737 family aircraft at May 19 remained over 9% higher than the equivalent day in 2019, although this was markedly down from the growth of nearly 22% recorded for late-April.
Hefei, the capital and largest city in Anhui Province, saw mainline narrowbody domestic flight arrivals decline by almost 22% in the seven days to May 19, while Liaoning's largest city Shenyang experienced a drop of over 11%.
At May 20 Chinese airlines had over 3,000 A320 and 737 family aircraft in service, while just under 200 were classified by Cirium as being in storage. The worldwide in-service passenger jet fleet of all types stood at over 18,700 with almost 7,700 in storage, representing just under 29% of the global inventory.
Learn more about Cirium Views
---
Cirium weekly COVID-19 aviation industry update – May 6, 2021
Most passenger jets returned to service this year spent fewer than 100 days in storage
Just over 3,000 single- and twin-aisle passenger jet return-to-service events were recorded by Cirium since January 1, and in the majority of cases the aircraft had been stored for fewer than 100 days before being placed back into operation. Meanwhile nine out of 10 narrowbodies and widebodies that made it back into commercial operation since the start of this year had spent less than one year in storage.
So far in 2021, just over 100 aircraft have been returned to service from storage at least twice, and one was returned four times, analysis of Cirium events data shows. The median average storage duration prior to the 2,450 narrowbody re-activation events this year was 80 days.
The fact that aircraft returned to service so far in 2021 had typically spent relatively short periods in storage may reflect the large pools of inventory from which airlines had been able to select in the face of severely depressed passenger demand due to the COVID-19 pandemic.
At May 6 Cirium classified just over 6,500 single- and twin-aisle passenger jets as having in-storage status, compared with just under 7,100 at January 1, giving a net reduction over the period of approximately 600.
—-
Learn more about Cirium Views

---
Cirium weekly COVID-19 aviation industry update – May 5, 2021
Ubiquitous CFM56 turbofan bears brunt of global flight hours decline but LEAP shows growth as fleet ramps up
Daily tracked flight hours by CFM International CFM56-powered passenger jets remain down by almost half compared with 2019, but the engine's massive installed base means the fleet is still accumulating more than three times the total airborne time of its closest rival, the International Aero Engines V2500.
Meanwhile GE Aviation's CF34 family – widely used to power regional jet types – saw a proportionally smaller decline in average daily utilisation as a result of the COVID-19 pandemic for the seven days to May 4, having reduced by only a third since two years ago.
Only two engine families showed growth in daily flight hours over the period, namely the Pratt & Whitney PW1000G and CFM LEAP, which have replaced the V2500 and CFM56 respectively as the primary powerplants equipping in-production western-built narrowbodies. Both are available for the Airbus A320neo family, while Boeing's 737 Max uses the LEAP exclusively. Utilization of the latter has been impacted in recent weeks by the renewed grounding of Max aircraft delivered since December due to an airframe electrical issue.
GE's GE90 large turbofan (equipping Boeing 777s) and latest-generation GEnx (787s and 747-8s) led the way in terms of average daily flight hours per tracked aircraft at 11.3 and 11 respectively, boosted by strong demand for widebody cargo flights. Rolls-Royce's Trent family meanwhile logged an average daily total of almost 10 hours for the seven days to May 4.
Announcing its first quarter results on April 30, CFM partner Safran said it expected overall narrowbody flight activity to reach 80% of the pre-pandemic level during the fourth quarter of 2021, while fellow 50% shareholder GE said separately it expected the market recovery to be "prolonged over multiple years".
At May 5 Cirium classified just under 30% of the global passenger fleet as having in-storage status, equivalent to just under 7,850 aircraft.
Learn more about Cirium Views.
---
Cirium weekly COVID-19 aviation industry update – April 29, 2021
Resilient domestic markets power US and Chinese operators to a combined 60% share of passenger jet daily flight hours
US and Chinese airlines have seen their combined share of global daily passenger jet flight hours rise from below 40% pre-pandemic to more than 60%, on the back of strong recoveries in their large domestic markets as most other regions and international services suffered severe declines.
Against a backdrop of the near halving of total global daily flight hours when comparing the seven-day average for April 28, 2021 with the equivalent day in 2019, Chinese operators had increased their activity in absolute terms, while US carriers had recovered to roughly two-thirds of the level recorded two years ago. By contrast, European-operated daily flight hours were at only 28% of 2019's figure, while Asia-Pacific excluding China was at 37%, Latin America at 49% and the rest of the world at 37%.
At April 28, 2021 Chinese airlines were flying almost 3,200 passenger jets daily on a seven-day average basis, compared with just over 3,000 for the equivalent day in 2019, while US carriers were deploying almost 900 fewer aircraft than 2019, at approximately 4,600. In Europe – where several nations were grappling with slower than expected vaccine roll-outs and renewed lockdowns, an average of only 2,000 aircraft were active daily, versus nearly 5,000 two years ago.
Average daily flight hours per aircraft were down just under 6% compared with two years ago for Chinese operators, compared with nearly 18% down for the USA and almost 30% for European carriers.
Cirium classified 30% of the global passenger jet fleet as having in-storage status at April 28, 2021 – equivalent to just over 7,900 aircraft.
Learn more about Cirium Views.
---
Cirium weekly COVID-19 aviation industry update – April 22, 2021
Travel bubble keeps Australia and New Zealand on path to capacity recovery, as India hit by impact of fresh COVID-19 wave
Latest passenger jet flown seat capacity trends highlight the contrasting fortunes of the Indian and combined Australian and New Zealand travel markets, as the former grapples with an unprecedented wave of Coronavirus infections while the latter pair begin to reap the benefits of their recently launched international 'travel bubble'.
India has seen a sharp drop off in both domestic and international flown seat capacity in recent days following a one-third fall in domestic traffic since mid-March, from approximately 280,000 daily passengers to just 170,000 on April 19 according to official figures. Indian carriers typically transported more than 400,000 domestic passengers daily prior to the onset of the pandemic. India on April 22 reported a new single-day record for COVID-19 cases of more than 310,000.
Meanwhile Australia and New Zealand – which are reporting virtually zero daily infections – have finally permitted quarantine-free international travel between the two countries after their borders were effectively closed for more than a year. Qantas and its affiliate Jetstar plan to operate more than 200 weekly services between the two countries, and Qantas Group CEO Alan Joyce has reported "tens of thousands of bookings" within a few days of seats being offered for sale.
While the travel bubble has boosted international capacity, domestic operations in the two nations also continue to grow steadily with daily available seats approaching two-thirds of India's level as of April 21.
Australian airlines had approximately 330 passenger jets in service on that date while more than 80 were in storage, including all 12 A380s in the Qantas fleet. New Zealand carriers had close to 50 aircraft in service with 20 in storage, including all 15 of flag-carrier Air New Zealand's Boeing 777s.
At April 21, Indian carriers had just over 500 aircraft in service and almost 120 in storage.
Learn more about Cirium Views.
---
Cirium weekly COVID-19 aviation industry update – April 14, 2021.
Control unit issue grounds 737 Max aircraft delivered since December 2020 restart
None of the nearly 90 Boeing 737 Max delivered by Boeing to operators following the restart of commercial operations with the type in early December 2020 has been tracked in flight since April 9, after the manufacturer recommended the aircraft be removed from service due to a potential electrical system defect.
Cirium tracking data shows the majority of the affected aircraft had been operating regular commercial flights before being pulled from service. US carriers American Airlines, Southwest and United are most heavily impacted, with a combined 63 aircraft withdrawn, although all three also operate additional earlier-build examples of the type.
Post December 2020-delivered Max aircraft operated by Alaska Airlines, Belavia, Blue Air, Cayman Airways, Copa, GOL, Neos, Sunwing, TUI UK and WestJet have also not been tracked in flight since April 9.
The temporary withdrawal of the most-recently delivered Max aircraft due to a 'back-up power control unit issue' has had a relatively modest impact on overall fleet utilization however, as most carriers are operating reduced schedules due to the COVID-19 pandemic. On Tuesday April 8, Cirium tracked nearly 130 Max aircraft operating just under 400 services, but despite the subsequent partial grounding, over 100 pre-2020 delivery aircraft operated nearly 350 flights on Tuesday April 13.
At April 13, Cirium classified 126 737 Max aircraft as having in-service status worldwide, while 350 were in storage.
---
Cirium weekly COVID-19 aviation industry update – April 8, 2021.
Pandemic finally drives operating leasing to 50% market share
Since the start of 2020 and in spite of the evolving negative impact of COVID-19 on new aircraft demand, Airbus and Boeing have delivered 822 new passenger jets to customers.
Operating lessors have continued to feature heavily amongst these customers, with The Cirium Core fleet data indicating that 228 of these aircraft (some 28%) have been delivered directly to lessors from their own order books before subsequent placement to airline operators. The data also shows that those same lessors additionally acquired a further 619 passenger jets in the same period via purchase and leaseback, including 542 in 2020 and another 77 in the first quarter of 2021.
The acquisition of these 847 aircraft drove a net growth in the installed global operating leasing portfolio of some 522 aircraft, with the balancing 325 units either parted-out at end of life or otherwise sold out of the lessors' existing portfolios.
During that same period, the overall global fleet of equivalent passenger single-aisle and twin-aisle jets grew by only 144 units to total 22,185 today – 17,256 single-aisle and 4,929 twin-aisle aircraft.
As a consequence, the market share of operating leasing has increased by 2.0% points since the end of 2019. It has thus quietly and unheralded achieved the 50.0% market share we see today.
There are many negatives about the pandemic but this one positive – the continued robustness and growth of the operating leasing business model – can at least give us cause for celebration.
---
Cirium weekly COVID-19 aviation industry update – April 5, 2021.
12 months of in-storage passenger aircraft
Cirium's teams of aviation and data experts have been monitoring the in-service and in-storage commercial fleet figures since the start of the COVID-19 pandemic. A year on from the peak of flight cancelations and cuts in flight schedules and 8,434 aircraft have returned to service.
On April 6, 2020, Cirium classified a total of 16,522 passenger jets worldwide as in-storage, whereas on April 6, 2021 a total of 8,084 are classified as in-storage.
A significant amount of the global commercial fleet remained in-storage through May 2020, with more than 16,000 widebodies, narrow-bodies and regional jets grounded. From June 2020 onwards airlines started to steadily return more commercial aircraft, mainly the single-aisles.
The more promising April 2021 commercial in-storage figure reflects the strong recovery in domestic flights in China and the US. Aircraft in-storage figures are intrinsically linked to travel demand and data from The Cirium Core suggests airline passenger traffic will only reach 47% of 2019 levels by the end of 2021.
Cirium's team of expert consultant—Ascend by Cirium—predict that by the end of 2021 there will still be 6000 aircraft still classified as in-storage.
Learn more about Cirium Views.
---
Cirium weekly COVID-19 aviation industry update – April 1, 2021.
Boeing 787 among most in-demand passenger jet types as deliveries resume
Boeing may have resumed deliveries of 787s at an opportune time as the latest-generation widebody twinjet family was the third most active passenger jet type measured by average weekly flight hours utilization per aircraft during the seven days to March 31.
Just over 760 787s were tracked in flight during this period, logging overall average airborne time of approximately 53 hours per tail, a shade behind the 777 Family at 54 hours while the almost 320 Airbus A350s spent over 58 hours in the air on average.
United Airlines on March 26 became the first airline to receive a 787 since October, after deliveries were suspended to enable the manufacturer to carry out inspections to ensure fuselage sections had been joined within required tolerances. Boeing accumulated a backlog of around 80 jets during the hiatus.
Measured by percentage of fleet active for the week to March 31, the 787 was in second place at just below 78%, fractionally behind the smaller A350 fleet at just over 78%, while the shorthaul A220 was third at over 76%.
Qatar Airways, China Southern, Virgin Atlantic, Air New Zealand and Turkish Airlines flew all their 787s at least once, while KLM and Turkish averaged nearly 100 hours of flight time per aircraft. The seven-day rolling average for 787 tracked flights had increased from 830 in mid-February to almost 1,100 by March 31, with the type's efficiency making it popular for belly cargo-only services.
As of March 31 Cirium classified 839 787s has having in-service status, while 156 were stored. Boeing holds firm orders for 495 additional aircraft.
Learn more about Cirium Views.
---
Cirium weekly COVID-19 aviation industry update – March 30, 2021.
FLY buy set to add younger aircraft & potential ABS feedstock to Carlyle portfolio
Carlyle Aviation Partners would reduce the average age of its managed aircraft portfolio through its proposed $2.36 billion acquisition of FLY Leasing, while potentially maintaining an overall 'idle' or off-lease rate of only around 5% – a couple of percentage points below the global average. The deal marks the latest round of leasing sector consolidation following AerCap's recent announcement of a blockbuster agreement to acquire rival GECAS.
Carlyle's 236 managed aircraft – of which just under 100 were classified by Cirium as in-storage as of March 30 – were operated by approximately 100 airlines and had an average age of just over 17 years. This compared with less than 11 years for the 84 FLY-owned aircraft with 40 operators, all of which were managed by BBAM and of which fewer than 40 were in service at March 30. Neither entity had outstanding orders for new aircraft.
Both portfolios are predominantly comprised of Airbus and Boeing narrowbodies, but also include a handful of widebody twinjets from both manufacturers. A large proportion of Carlyle's aircraft have been financed via asset-backed securitisation (ABS) issuances, suggesting its FLY acquisition may provide further ABS feedstock if that market experiences a revival later this year.
Learn more about Cirium Views.
---
Cirium weekly COVID-19 aviation industry update – March 23, 2021.
LOT latest to restore European 737 Max flights but ongoing lockdowns slow fleet ramp-up
The Boeing 737 Max is making a low key return to European skies as several of the continent's nations face up to the prospect of a potential third-wave of COVID-19 infections. However optimism persists that a loosening of travel restrictions later this year will herald a rapid ramp-up of the European-operated fleet of the Boeing latest-generation single-aisle twinjet.
LOT Polish Airlines has become the fifth European operator to re-introduce revenue flights with the type, just over a month after TUIfly Belgium operated the first revenue service on February 17.
As of March 24 Cirium had tracked flight activity for 10 European-operated Max aircraft – while a further 66 remained in storage – with daily commercial services peaking at seven on both March 14 and 21. Operations have been sporadic in the current low-demand environment, with no commercial flights tracked for March 16 or 23.
Ryanair meanwhile revealed on March 24 that it no longer expects to receive its first of 199 Max aircraft on firm order this month, but expects to take delivery of eight aircraft in April and a similar number the following month.
A total of 39 European airlines and leasing companies hold firm orders for 767 737 Max aircraft, Cirium fleets data shows. European carriers had been operating approximately 200 Max flights daily in March 2019 using over 50 aircraft, prior to the type's worldwide grounding in the wake of two fatal crashes.
Globally, more than 300 Max flights were operated on March 24, by 115 aircraft.
Learn more about Cirium Views.
---
Cirium weekly COVID-19 aviation industry update – March 23, 2021.
Smaller latest-technology passenger jets prove popular in Europe as travel curbs bite
European operators flew a relatively high proportion of their fleets of smaller, latest-technology passenger jets such as the Airbus A220 and Embraer 190/195-E2 family during the seven days to March 22, compared with legacy mainline types such as the A320ceo and Boeing 737.
Is this an indication of a developing trend? For example KLM, which recently took delivery of its first E195-E2, had originally intended to use the 132-seat type as a direct replacement for its older 100-seat E-190s, but Cirium Dashboard has reported that the pandemic downturn means some of the remaining 25 aircraft it has on order will be used to replace the mainline carrier's 737-700s as their leases expire.
However while the A220 and Embraer's large regional jet family are finding favour as efficient, lower-capacity replacements for mainline aircraft in Europe's current low-demand environment, they still account for a comparatively small part of the region's overall fleet.
Cirium tracked eight of the nine A220-100s operated by European airlines flying at least once during the week to March 22, alongside 34 of 45 larger A220-300s. Over 160 of the nearly 270 Embraer 190/195 models were airborne, although this included just a handful of the latest E2 variants.
By comparison nearly 840 of the almost 2,000 A320 Family aircraft with European operators saw flight activity during the period, as did approximately 720 of over 1,700 Boeing 737s.
The ongoing recovery in US domestic operations meant that a large majority of North American-operated A220s, A320s and 737s flew in the seven days to March 22, together with approximately 60% of the continent's E-190/195s.
As of March 23 Cirium classified just under 32% of the global passenger jet fleet as in-storage.
---
Cirium weekly COVID-19 aviation industry update – March 18, 2021.
Carriers fuel optimism that USA can replicate China's rapid restoration of domestic operations
A new Cirium survey reveals the British public attitude towards flying again in a world where COVID-19 still exists. Are people concerned with flying in aircraft that has been grounded? What measures will increase the likelihood of traveling? Will people spend less time in the airport?…
---
Cirium weekly COVID-19 aviation industry update – March 16, 2021.
Carriers fuel optimism that USA can replicate China's rapid restoration of domestic operations
China and the USA are at the forefront of the global recovery in domestic passenger jet flights, together accounting for more than two thirds of the approximately 39,000 intra-country services operating daily as measured on a weekly rolling average basis.
While total flight numbers in the USA remain nearly 40% down compared with typical pre-pandemic levels, carriers have begun to report indications of an uptick in forward bookings amid widespread optimism over the impact of the nation's accelerating mass vaccination program. US President Joe Biden said last week that all US adults would have the opportunity to receive a vaccine by early May.
American Airlines saw ticket sales begin to climb in late-February and "our last three weeks have been the best… since the pandemic hit", CEO Doug Parker told a virtual JP Morgan investor conference on March 15. During the same event, Delta CEO Ed Bastian also reported a "very different trajectory" emerging for forward bookings, adding "we are getting really close to 2019 numbers".
United reported improved customer demand in its March 15 investor update, while Southwest CEO Gary Kelly went as far as telling the Washington Post that "it feels like the beginning of the end" of the crisis.
US airports are meanwhile welcoming more than 1,000 international flight arrivals per day, but China is running at just a tenth of that level as cross-border travel restrictions in the Asia Pacific region heavily stifle demand. However, lack of progress with restoring international services has not prevented China's airlines from hitting near pre-pandemic levels of overall daily flight activity following a sharp but short-lived downturn in the run-up to the Lunar New Year Holiday.
As of March 16 Cirium classified 32% of the global passenger jet fleet as in-storage, but for Chinese operators the figure is just over 8%, while for US airlines the figure is just below 29%.
---
Cirium weekly COVID-19 aviation industry update – March 11, 2021.
The acquisition of GECAS by AerCap will diversify the engine portfolio across A320 and 787 fleets
The proposed AerCap $30 billion acquisition of GECAS will create the world's largest lessor by far – with more than 2,000 owned and managed aircraft – but how do the two portfolios compare in terms of engine fit where a choice is available? And are aircraft with certain engine types more likely to have ended up in storage due to the COVID-19 pandemic?
Analysis of Cirium fleets data shows that GE Aviation will have the edge for the combined entity's Airbus A320 and Boeing 787 family types, also taking into account firm order backlogs where engine selections have been announced.
AerCap has yet to confirm whether CFM International (a GE–Safran joint venture) or Pratt & Whitney (also majority owner of IAE) will supply the engines for 108 of the A320 family single-aisles it has on firm order. However 27 additional on-order A320s will be fitted with CFM engines, while 23 will come with Pratt & Whitney PW1100G geared turbofans. GECAS has 147 CFM-powered A320 family aircraft on order.
AerCap and GECAS combined have more than 580 A320 family aircraft in service, and over 320 more which are classified by Cirium as being in storage.
On the widebody side, AerCap has 53 Rolls-Royce Trent 1000-powered 787s of which 19 are in storage, while three more are yet to be delivered. It also has 35 GE Aviation GEnx-1B-powered 787s, of which four are in storage, and a further 13 on order. GECAS meanwhile manages nine 787s – with five in storage – and has four on order.
Speaking during a March 10 analyst's call, AerCap CEO Aengus Kelly was reported by Cirium Dashboard as saying the acquisition of GECAS would "broaden" the lessor's "long relationship" with GE Aviation, but strong relationships would continue with Rolls-Royce and Pratt & Whitney parent Raytheon Technologies and AerCap "won't be captive" to one engine OEM.
Learn more about Cirium Views.
---
Cirium weekly COVID-19 aviation industry update – March 9, 2021.
Chinese and US carriers power fresh rebound in domestic passenger jet flights
Airlines in China and the USA have ramped up domestic passenger jet operations following a short-lived mini-slump in mid-February, to collectively deliver year-over-year growth in overall flight numbers as of March 8. Meanwhile the seven-day average number of Airbus and Boeing single-aisle aircraft tracked making at least one domestic flight in either of the two countries reached its highest level since February 2 2020, at over 5,250.
The weekly average for daily Chinese domestic services with Airbus and Boeing single-aisles reached nearly 11,000 on 8 March, which was within touching distance of the pre-pandemic peak reached in mid-January 2020. The equivalent figure for the USA on March 8 was nearly 7,800, which remains a third down on typical pre-pandemic levels. Average daily flight hours per active aircraft for the two markets was running at 7.27, which remains more than an hour below the typical 2019 level.
It remains too early to determine to what extent the recent upturn in flight activity is being driven by passenger demand. However the US Transportation Security Administration reported total traveler throughput (domestic and international) at US airports of 1.12 million passengers for March 8, which represented a small decline week over week, and was just over one million lower than the equivalent day a year earlier.
Cirium classifies only around 200 Chinese-operated Airbus and Boeing narrowbodies as being in storage with nearly 3,000 in service, while US carriers have more than 1,000 in storage and just over 3,100 in service (these aircraft may be used for international as well as domestic services).
Learn more about Cirium Aircraft Watch and Cirium Fleets Analyzer.
---
Cirium weekly COVID-19 aviation industry update – March 4, 2021.
737 Max in-service fleet climbs through 100 with a dozen operators on stream
Boeing's 737 Max is staging a strong comeback as European carriers rejoin the fray, lifting the in-service fleet above 100 for the first time since the type's resumption of revenue flights in early December 2020.
The latest-generation twinjet's 12 operators logged over 1,300 flights during the seven days to March 3. Leading the pack was American Airlines, with nearly 400 services using 27 aircraft out of 31 so far returned to operation, providing more than 107 million available seat kilometres (ASK).
Gol of Brazil – the first airline to resume commercial operations, from December 9 – set the pace in terms of per-aircraft utilisation. Flying its eight examples for an average of nearly 11 hours daily during the past week – compared with fewer than six hours for American – Gol's Max aircraft delivered more than 82 million ASKs over the seven day period.
In Europe, TUI fly Belgium's two in-service aircraft registered six tracked flights, while Czechia's Smartwings recorded the same number of flights with a single aircraft.
The Max program received a further shot in the arm on March 1 when United Airlines – currently operating 12 aircraft with 18 in storage – announced an order for an additional 25, taking its backlog to 188. Meanwhile Saudi Arabia's regulator approved the Max to re-enter service on March 2, after Australia on February 26 became the first Asia Pacific nation to lift its ban on Max flights to and from the country.
However it remains unclear when the Max will return to flight status in the crucial Chinese market, with that country's regulator yet to agree a schedule for re-certification test flights. Cirium fleets data shows Chinese operators have 97 Max aircraft in storage and a further 209 firm orders allocated to them.
The in-service Max fleet previously peaked at 360 aircraft in early 2019, prior the type's worldwide grounding following fatal crashes in Indonesia and Ethiopia.
Learn more about Cirium Aircraft Watch.
---
Cirium weekly COVID-19 aviation industry update – March 2, 2021.
Mid-life 737NGs more likely to have escaped storage in 2021 than comparable A320ceos
The Boeing 737NG series has seen greater levels of overall flight utilization relative to fleet size so far in 2021 compared with the Airbus A320ceo family, Cirium data shows.
For example, almost 300 of the 360 2010-build 737NGs have been tracked in flight since January 1, representing 83% of the current fleet, while fewer than three quarters of the 376 2010-build A320ceo family aircraft have flown commercially so far this year. However those 2010-vintage A320ceo family aircraft which did fly were airborne for an average cumulative total of 243 hours each between January 1 and March 1, compared with 233 hours for 737NGs.
The prolonged grounding of the 737 Max ­– now lifted in several countries including the USA, Brazil, UK, European Union bloc and Australia – contributed to relatively higher levels of 737NG usage, and while Cirium classified nearly 100 Max aircraft as having transitioned to in-service status by March 1, almost 360 delivered aircraft remained in storage. By contrast, well over 1,450 latest-generation A320neo and A321neo aircraft were in service while just over 190 were in storage – equivalent to just under 12% of the fleet.
Meanwhile, a little over 21% of the more than 6,400 previous-generation 737NGs were stored, compared with 34% of the over 7,100 A320ceo family aircraft.
Older aircraft typically experience lower levels of average utilization than newer types – as was the case even in the pre-pandemic era – as they tend to require more maintenance-related ground time.
Learn more about Cirium Aircraft Watch.
---
Cirium weekly COVID-19 aviation industry update – February 25, 2021.
Nine in 10 of UK's pre-pandemic international seats fail to get airborne as airlines pin hopes on second-half demand recovery
Airlines have responded to the UK government's latest tightening of border controls and quarantine requirements by operating fewer than 10% of last year's international seats into and out of the country.
Just over 28,500 passenger jet seats were flown into the UK from overseas airports on February 24 – equivalent to the level previously seen in mid-June 2020 during the first COVID-19 wave.
Pre-pandemic capacity had been running at a daily level of almost 400,000, when the UK accounted for approximately one in 15 international passenger seat arrivals globally. Available seats fell to below 11,000 in late-April, recovering to 200,000 in late August before slumping again to 35,000 in late-November. A brief mini-peak of nearly 140,000 was reached in the run up to Christmas, prior to the UK entering a third national lock-down in early-January.
Cirium data shows that Spain had suffered by far the largest decline in seat capacity for UK flights on a year-over-year, seven-day rolling average basis as of February 24, while the USA accounted for the largest number of daily seats being flown. Some countries, such as Portugal, have seen UK flights completely suspended.
The UK's renewed slump comes as optimism grows that restrictions on outbound international travel could start to be relaxed as early as late-May, subject to sustained reductions in COVID-19 case rates, hospitalisations and deaths while a national vaccination program continues apace. Airlines and travel companies have reported a recent surge in bookings for trips during the second half of 2021.
The International Air Transport Association warned earlier this week that barriers to air travel were "rising in all regions" with Asia remaining the region hampered by the most stringent controls. Europe was ranked in second place, according to the organization's 'international travel stringency index'.
Learn more about Cirium Aircraft Watch.
---
Cirium weekly COVID-19 aviation industry update – February 23, 2021.
Grounding of P&W-powered 777s highlights declining appeal of legacy models
The temporary grounding of Pratt & Whitney (P&W) PW4000-powered Boeing 777s (following a suspected metal fatigue-induced fan blade failure on a United Airlines aircraft) has had limited impact on global fleet capacity, as the legacy type had fallen out of favor with operators since the onset of the COVID-19 pandemic.
Daily flights by all in-service 777-200/200ER widebody twins –including GE Aviation GE90 and Rolls-Royce Trent 800-equipped models – in February were down by more than three-quarters compared with mid-2019, at fewer than 200. (As an aside, today's graphic also shows the impact of Typhoon Hagibis which struck Japan on October 12 2019, causing the cancellation of half of flights by P&W-powered 777s for that day.)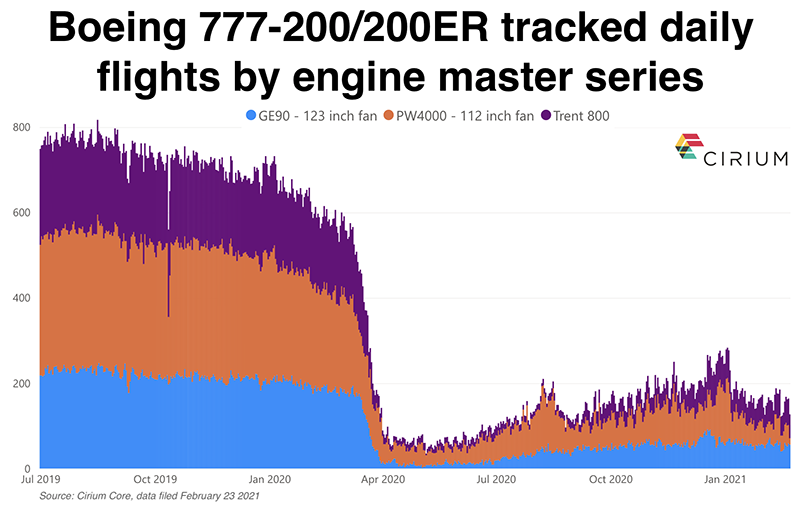 All 51 operational passenger-configured, PW4000-powered 777s (out of the global fleet of 125) had been removed from service by February 23, including 15 stretched -300 models operated by All Nippon Airways, Japan Airlines and Korean Air. United had by far the largest total inventory of PW4000-equipped aircraft with a 52-strong fleet of -200/200ER models, of which 19 had been in service prior to the February 20 engine failure.
Meanwhile just over one third of the 183 remaining Rolls-Royce Trent 800-powered 777-200/200ER/300s were classified as in-service as of February 23, alongside approximately half of the 147 GE90-equipped examples including 11 in United's fleet. By contrast, 664 of the newer-generation and exclusively GE90-powered, passenger-configured 777-200LRs and -300ERs were in service, leaving only 174 in storage.
The US National Transportation Safety Board is co-ordinating with Pratt & Whitney to determine if metal fatigue caused two fan blades of a PW4000 engine to break off during United flight 328 on February 20.
Learn more about Cirium Aircraft Watch.
_________
Cirium weekly COVID-19 aviation industry update – February 18, 2021.
Growing A320neo in-service fleet suppresses return of older models from storage
Airlines are operating almost nine in 10 of the nearly 1,200 Airbus A320neo narrowbody twinjets delivered to date, while more than a third of the over 4,100-strong legacy A320ceo fleet remains in storage, highlighting the extent to which the latest generation model is being preferred by carriers.
Cirium's baseline recovery scenario nevertheless calls for most sub-20-year-old A320s to return to service eventually, assuming passenger demand recovers by 2023-24. However fewer could be re-activated if Airbus chooses to raise A320neo production rates more quickly than is currently envisaged. Cirium fleets data shows as of February 18 2021 there were 215 A320s older than 20 years in service, plus 218 more in storage.
The lower-capacity A319ceo has been disproportionally impacted by the COVID-19-induced slump in demand, with 500 aircraft inactive and only 745 in service. Meanwhile just over 500 of the larger A321ceo are also inactive, but nearly 1,200 are in service, and a mere 13% of the nearly 500 re-engined A321neos delivered so far are stored.
At February 18 Cirium classified over 32% of the global Western-built passenger jet fleet as having in-storage status.
——–
Cirium weekly COVID-19 aviation industry update – February 16, 2021
Fears of second COVID-19 wave fail to subdue recovery of India's domestic market
India's domestic market has staged a remarkable recovery measured by tracked passenger jet flights following an almost complete shutdown during April and most of May last year, to reach almost four fifths of the pre-pandemic level by February 15.
Low-cost carrier IndiGo dominated, accounting for over half of the nearly 2,000 domestic services operated daily on a seven-day rolling average basis. By sharp contrast, total daily international arrivals into Indian airports by Indian carriers were running at barely 100 – well below half the normal level – with IndiGo running fewer than 30.
Cirium fleets data showed that Indigo had all of its 120 Airbus A320neos and 30 A321neos in service, while 37 of its 100 A320ceos remained in storage. On February 15, over 210 of its aircraft were tracked in flight, each spending an average of 7.9 hours in the air which was down approximately 16% year-over-year.
India's just under 11 million confirmed cases of COVID-19 placed it behind only the USA in the global ranking. However reported daily infection rates among the country's 1.3 billion-strong population appear to have been declining sharply and fatalities were officially running at fewer than 100 a day, while the economy has been fully reopened.
China also staged a strong domestic recovery following a first wave of COVID-19 infections early last year, but flight activity had been heavily impacted by renewed outbreaks in the run up to Lunar New Year earlier this month.
At February 15 Cirium classified just over 5% of Indian-operated passenger jets as having in-storage status, compared with the global figure of over 32%.
__________
Cirium weekly COVID-19 aviation industry update – February 11, 2021
China's tentative domestic bounce-back raises hopes for renewed V-shaped recovery
Domestic flight activity in China has rebounded sharply during the past several days, apparently marking the conclusion of a dramatic decline prompted by Beijing's request to its citizens to avoid traveling during the run up to the February 12 Lunar New Year.
Including the very low number of international services, seven-day rolling average daily flights for Chinese operators fell below 6,500 on February 3 – a level last seen in early-May 2020. By February 10 this metric had recovered to nearly 7,500, although it is too early to determine to what extent this increased flight activity was driven by an uptick in passenger demand.
In terms of aircraft activity, around 2,250 Chinese-operated passenger jets were tracked making at least one flight on February 3, while over 1,500 did not get airborne. However, nearly 2,400 aircraft were active on February 10.
Cirium classified just over 8% of the Chinese operated passenger jet fleet as having in-storage status on February 10, equivalent to 310 aircraft. This compared with the global figure of over 32% of passenger jets in storage.
The renewed recovery in China – coupled with a slight uptick in the USA – has pushed overall global domestic flight activity up slightly in recent days, in contrast to international markets where travel remains heavily restricted as governments attempt to contain the spread of more transmissible strains of Covid-19.
__________

Cirium weekly COVID-19 aviation industry update – February 9, 2021
Europe's airlines shed more cross-border seat capacity as travel restrictions bite
Intra-European international seat capacity has fallen by half across 10 of the continent's busiest airports since the pre-Christmas peak, as travelers grapple with the increasingly complex array of restrictions designed to contain the spread of more transmissible strains of COVID-19.
Lisbon Airport's rolling seven-day arrival seat average was just 3,000 on Monday February 8 – less than a quarter of the December 23 total – following moves by Germany and the UK to ban entry to travelers from the southern European country.

Meanwhile the UK government's wider tightening of entry restrictions during the nation's third national lock-down saw London Heathrow's intra-region arrival seats fall to a little more than 5,100, down from approximately 19,000 just before Christmas. Frankfurt dropped from over 20,300 to just under 10,500 over the same period. On Monday February 10 2020 – the equivalent day a year earlier – Heathrow recorded just under 50,000 inbound seats on cross-border flights from European airports, while Frankfurt saw nearly 51,000.
Although optimism persists that vaccination programs will lead to the phased relaxing of travel restrictions in time for Europe's summer holiday peak, uncertainty remains over the ability of governments to control Coronovirus mutations against which current vaccines may prove less effective. More data is also needed to assess the full impact of mass vaccinations on case rates and hospitalisations.
Cirium classifies 46% – or just under 3,000 – of the passenger jets operated by European airlines as having in-storage status, which is significantly higher than the global average of 32%.
---
Cirium weekly COVID-19 aviation industry update – February 4, 2021

US aviation market shows its resilience amid initial signs of declining global COVID-19 cases
The US air transport system has proved relatively resistant to the impact of the second wave of COVID-19 infections measured by daily passenger jet flight arrivals, in contrast to Europe and China which have experienced sharp declines.
Airports in the USA have consistently handled around 13,000 daily flights since mid-July – with activity having edged slightly higher over the Thanksgiving and Christmas holiday periods – although the level has remained nearly 50% down compared with a year prior. Published schedules and recent trading updates by US carriers suggest the seat capacity outlook remains relatively stable despite the fact that they continue to post heavy losses.
US Transportation Security Administration passenger checkpoint figures suggest aircraft are however departing US airports significantly emptier on average. During the seven days to February 3rd just under 4.75 million travelers were processed at US airports, which is down more than 69% year over year.
Europe has seen flight arrivals decline by more than half since early September – to a level more than three-quarters down year-over year – due to renewed national lockdowns and heavy restrictions on cross-border travel. Arrivals in China have dropped by nearly half since early-October, albeit from a position of year-over-year growth versus 2019.
There is increasing optimism that travel demand will return in the coming months as confirmed Coronavirus cases show an overall downward trend and increasing proportions of vulnerable populations in many countries receive vaccinations. However much will depend on how and when governments begin to relax travel restrictions and whether they are able to agree consistent rules on eligibility to fly.
The proportion of passenger jets in storage globally has edged up slightly in recent weeks to just under 32%, equivalent to just under 8,400 aircraft.
---
Cirium weekly COVID-19 aviation industry update – February 2, 2021
Bookmark this page for our twice-weekly updates.
COVID-19 weekly update: North America poised to overhaul Asia Pacific for daily passenger jet flights
Asia Pacific appears destined once again to slip behind North America by volume of tracked daily passenger jet flight arrivals as China's drive to discourage holiday travel in the run-up to Lunar New Year takes its toll on passenger demand in the region.
Including both domestic and dramatically-curtailed international operations, seven day rolling average flight arrivals at Asia Pacific airports had declined to just over 13,000 by February 1, down from December's peak of nearly 20,000. North America meanwhile spent the second half of January holding steady at close to 13,000 daily flights, dipping slightly to below 12,800 on February 1 as snow storms affecting the East Coast of the USA began to spur an uptick in flight cancellations.
As the first region to feel the full impact of the initial COVID-19 wave, Asia Pacific flight levels fell below North America in early February 2020 but a faster recovery rate saw their positions reversed again by mid April as the Chinese domestic market powered ahead to record year-over-year growth by early-October. Chinese operators have subsequently suffered a dramatic reversal in fortunes just as the New Year holiday period approaches.
Cirium fleets data shows Asia Pacific operators have 19% of their 8,200 passenger jets in storage, while their North American counterparts have nearly 33% of their more than 7,700 aircraft classified as inactive.
Mass vaccination programs continue to gather momentum in many nations, fueling optimism that travel demand will bounce back later in the year, although concern about the spread of more transmissible virus strains has prompted many governments to further tighten international travel restrictions in the short term.
Global passenger jet flights remain down nearly 54% compared with last year, while approximately 40% fewer aircraft are being tracked each day operating commercial services.
——-
Cirium weekly COVID-19 aviation industry update – January 29, 2021
Boeing 737 Max rehabilitation enters critical phase as European approval secured
Boeing's 737 Max is steadily increasing its operational footprint with nearly 120 flights now taking place daily across North and Latin America. European operators are meanwhile set to rejoin the fray following the type's re-approval by the European Aviation Safety Agency and UK Civil Aviation Authority.
The revival of the Max's fortunes against the backdrop of the COVID-19 crisis comes as Boeing finds itself pinning its hopes for financial recovery on a rapid ramp-up of single-aisle deliveries to offset the temporary suspension of 787 handovers to customers, twin-aisle production rate cuts and the latest delay to the 777X programme.
At January 27, 2021 Cirium classified 46 737 Max as having in-service status, comprising 37 Max 8s and nine larger Max 9s. Boeing had meanwhile delivered 47 aircraft since the Max resumed commercial operations on December 9.
Airlines have increasingly turned to sale and leasebacks to bolster their cash reserves and help them survive the Coronavirus-induced collapse in passenger demand. This trend has been strongly reflected in recent Max activity, with 31 of the post service-restart deliveries having been sold to operating lessors and leased back to airlines at the point of handover. A further 13 were direct deliveries to lessors for lease to airlines. That meant only three of this initial batch of deliveries (including one BBJ) did not end up in the hands of lessors.
Meanwhile 385 previously delivered Max remained in storage, and nearly 400 already built had not yet been handed over to customers. American Airines and United have taken all but four and three of their pre-built aircraft, respectively, and have 15 and 13 in service.
The top five carriers with pre-built inventory on Boeing's books were China Southern, Southwest, Ryanair, Spicejet and Xiamen. Just over 100 Max were allocated to Chinese carriers which are not yet permitted to return the type to commercial service.
Cirium data showed operating lessors managed 24% of in-service Max but accounted for nearly 79% of stored examples and 43% of on-order aircraft.
———
Cirium weekly COVID-19 aviation industry update – January 26, 2021
China's domestic aviation market appears to be entering a renewed slump as the February 12th Lunar New Year approaches, raising the prospect of sharply curtailed travel demand over the holiday period.
The seven-day rolling average for daily domestic passenger jet services flown fell to just over 8,600 on January 25th. This was down almost a third from the peak of over 12,600 flights recorded in early October 2020 – which marked the pinnacle of the dramatic recovery from the downturn caused by the first wave of Covid-19 infections at the start of the year – and was higher than the pre-pandemic peak of 2019. The latest reduction in activity was spread across all major operator groups.
Many hundreds of millions of people who would normally travel to visit relatives to celebrate Chinese New Year have reportedly been told by officials to stay at home. An increase in Coronavirus cases in Hebei province around Beijing, together with other isolated outbreaks in the country, meant that holiday travel overall is expected to be 40% down on 2019, according to China's transport ministry.
At January 25th Cirium classified just under 300 passenger jets with Chinese operators as being in storage, with nearly 3,500 remaining in service. On this date, just over 2,400 aircraft were tracked operating at least one domestic flight – 15% down on the equivalent day last year – while average flight hours per active aircraft were down 14% year-over-year at just over 6.1.
———
Cirium weekly COVID-19 aviation industry update – January 20, 2021
EasyJet and Ryanair flightpaths diverge in second-wave shutdowns
Europe's largest low-cost carriers have opted for very different fleet operating strategies to help them ride out the industry crisis, as passenger demand meanwhile collapses once again in the face of a second wave of COVID-19 virus infections and associated travel restrictions.
A glance at Cirium's visualisations of comparative daily fleet activity for the past 90 days highlights the extent to which EasyJet moved to place aircraft into storage to reduce capacity, while Ryanair continued to fly most of its Boeing 737s at least once every seven days but at a generally lower level of average daily utilisation per aircraft.
EasyJet (U2), together with its European (EC) and Swiss (DS) operating divisions, had 338 Airbus A320 family aircraft in its fleet as of January 19, of which Cirium classified 193 – or 57% – as being in storage. By contrast, all but seven of Ryanair's 262 Boeing 737NGs remained in service.
Despite having a smaller proportion of its fleet in service, EasyJet's rapid ramp-down of operations during the second wave saw average daily flight hours per in-service aircraft for the seven days to January 19 fall to below one, while Ryanair's figure has declined to less than two. According to Cirium's tracking sources, EasyJet flew fewer than 50 commercial flight hours on January 19, while Ryanair recorded a little more than 100.
EasyJet flew over 94% fewer flight hours in the seven days to January 19 compared with the equivalent pre-pandemic week, while Ryanair's year-over-year decline was just over 89%.
Despite the extremely challenging short-term demand outlook, both EasyJet and Ryanair have reported strong upticks in forward bookings for summer 2021 and beyond as sentiment improves on the back of accelerating roll-outs of multiple vaccines in nations across Europe.
Cirium currently classifies just under 31% of the global passenger jet fleet as being in storage.
---
Cirium weekly COVID-19 aviation industry update – January 13, 2021
The global recovery in domestic passenger jet flight activity has encountered its first significant blip as second waves of Covid-19 infections in several key markets and the emergence of a more transmissible variant impacted traveller sentiment. However there is well-founded optimism that demand can be reinvigorated beyond the first quarter of 2021 as the accelerating roll-outs of multiple vaccines begin to depress case numbers and hospitalizations.
Domestic markets have not unexpectedly led the recovery so far, improving from a year-over-year decline in weekly-average flights of more than three-quarters in late-April to being less than a quarter down on Christmas Eve. Since the holiday peak this metric has surrendered 10 percentage points to hit -35% on January 12 with the largest markets of China and the USA both trending downwards (the former having shown year-over-year growth up to January 4).
Cross-border flights – which are impacted more severely by government travel restrictions, pre-flight testing requirements and quarantine rules – remain down approximately three-quarters year-over-year.
Cirium classified 30% of the global passenger jet fleet as having in-storage status on January 13.
Contact Cirium to learn more about our data and analytics solutions.
---
Cirium weekly COVID-19 aviation industry update – December 16, 2020
Cirium weekly update — Latin America's steady progress on the path to recovery
Latin America's steady progress on the path to recovery during the ongoing COVID-19 crisis has seen the region for the first time outpace North America, as US carriers grapple with a post-Thanksgiving slump in passenger demand.
Weekly average passenger jet flight arrivals at Latin American airports had by December 15 improved to a level of just under 46% down on last year, while North American airports saw a decline of nearly 48% versus 2019. By this measure Latin America overtook North America in the second week of December, as flight arrivals in the latter region dropped sharply from a temporary spike spanning the Thanksgiving holiday.
In terms of absolute flight numbers North America's seven-day average of approximately 13,000 remains well over three times that of Latin America, which recorded a figure of just over 3,700 for December 15. However Latin American airports handled a far greater proportion of international flights – more than a quarter were cross-border services compared with just 8% for the US and Canada combined.
Latin America's performance was led by Mexico (with total flight arrivals down 33% on last year), followed by Brazil (-41%), Columbia (-49%) and Chile (-52%). On an individual airline basis, Mexican low-cost carrier Volaris flew 7% more flights than last year, while Azul and Gol of Brazil were down 29% and 43%, respectively.
Gol earlier in December became the first operator worldwide to resume revenue flights with the Boeing 737 Max, and it flew more than 20 services on December 15 using five aircraft. Aeromexico meanwhile is expected to reintroduce the Max before the end of the year.
Cirium continues to classify 31% of the global passenger jet fleet as in-storage, while for Latin America the figure is just over 32%.
Find out more about Cirium's data and analytics to stay ahead of the curve, here.
---
Cirium weekly COVID-19 aviation industry update – December 9, 2020
Boeing's 737 Max program passed the critical milestones of restarting customer aircraft deliveries and resuming airline revenue passenger services on consecutive days in mid-December, but major logistical challenges lie ahead on the path to full reactivation of the fleet.
United Airlines on December 8 became the first operator to receive a new 737 Max since the worldwide grounding of the type in March 2019 in the wake of two fatal accidents. However the carrier does not expect to relaunch its own commercial flights until the first quarter of next year. It has 14 Max in its fleet and a further 170 on order.
On December 9 Brazilian carrier Gol deployed one of its seven 737-8s (two-year-old aircraft PR-XMB) to operate flight G34104, carrying fare-paying passengers between Sao Paulo and Porto Alegre.
Back in February 2019 – the last full month of Max operations prior to the grounding – just over 350 aircraft were tracked in service, logging nearly 31,000 flights with an average air time of 2.9 hours. This compared with the 737NG's average flight time of just over two hours for the same period, illustrating how airlines were deploying the improved efficiency and greater range capability of the Max.
Boeing has accumulated a total inventory of approximately 450 undelivered Max, while airlines have maintained nearly 400 more in storage since the 2019 grounding order.
The extended flight ban and subsequent Covid-19-sparked industry downturn have taken a heavy toll on the Max's still sizeable firm order backlog, which in November shrank by a further 88 aircraft to just under 4,200. This followed cancellation of commitments from Air Canada, Air Lease, Virgin Australia and other unidentified customers.
This contrasted with the competing Airbus A320neo family which boasted a firm backlog of just over 5,900 aircraft, in addition to more than 1,500 already delivered.
Discover more Cirium data and analytics to stay ahead of the curve, here.
---
Cirium weekly update, December 2, 2020
US Thanksgiving period shows airlines flew fewer than half the number of travelers year-over-year, at significantly lower average load factors
Preliminary passenger traffic and seats-flown data covering the US Thanksgiving holiday period shows that airlines flew fewer than half the number of travelers as last year, at significantly lower average load factors.
The US Transportation Security Administration (TSA) screened approximately 9.5 million passengers during the 10 days from November 20-29, with daily volumes ranging between 35-45% of 2019's level. Cirium's flight tracking data meanwhile recorded year-on-year daily reductions in departing seats from US airports ranging from 30-47%.
The data suggests theoretical system-wide average load factors for flights departing US airports varied between 39-55% across the 10-day Thanksgiving period in 2020, compared with 58-92% for the equivalent travel days last year. However the following provisos apply:
Travelers taking connecting flights usually pass through a TSA checkpoint only once, thereby diluting apparent load factors
Airline crew may also be included in TSA figures
TSA traveler volumes are for US time zone dates while Cirium flights data is for UTC dates
Data for 2020 reflects the impact of the disproportionate reduction in international traffic and capacity due to cross-border travel restrictions
Southwest Airlines flew the most seats over Thanksgiving, with a seven-day rolling daily average of 405,000 at November 29, followed by Delta (292,000), American Airlines (210,000), United Airlines (159,000) and SkyWest (116,000). Meanwhile the seven-day rolling average for total US flight departures was 37% lower than the equivalent day last year, while 29% fewer aircraft were tracked in flight.
US carriers had 32% of their combined passenger aircraft fleet in storage as of December 1, equivalent to just over 2,300 aircraft.
Find out more about Cirium's data and analytics to stay ahead of the curve, here.
Aviation industry weekly update – November 25, 2020
The A321neo – has bucked the industry trend to show year-on-year growth for weekly flights operated since late-September, hitting a nearly 7% improvement as of November 24.
A significant factor was that the in-service A321neo fleet grew by over half, from 257 aircraft in November 2019 to 392 by November this year. However seven-day rolling average daily flying hours utilization dropped by 25% over the period, from 9.7 at November 26 last year to 7.3 as of November 24 2020.
While the A321neo was the only type to post a year-on-year increase in total daily flights, its rolling weekly average figure was still well below 1,000, compared with the A320ceo at around 7,500 and the much larger Boeing 737-800 fleet which accounted for over 10,000 flights per day on average during the week to November 24.
The A320neo was the most utilized single-aisle type in terms of daily flying hours, registering a weekly average of 7.6 on November 24, while the 737-800 recorded just over seven. Boeing's direct competitor to the re-engined A320neo Family range – the 737 Max – is set to return to service later this year following its worldwide grounding in March 2019.
Meanwhile just over one tenth of the A321neo fleet is in storage – equivalent to 45 aircraft – while almost one third of the nearly 1,700 earlier-generation A321ceos are in-active. For the roughly equivalently-sized 737-900, slightly fewer than 100 examples or just over 17% are in storage, while 460 are active.
Narrow-body types have seen a faster recovery in operations than wide-bodies because global daily domestic flights have already recovered to approximately two thirds of the level recorded last year, while international operations continue to decline and are around four-fifths down on last year.
Cirium classifies approximately 31% of the global passenger jet fleet as having in-storage status. Although this figure has remained relatively stable for the past several weeks, it masks a significant level of churn as operators move aircraft in and out of service in an effort to minimize maintenance expenditures.
Aviation industry weekly update – November 18, 2020
Daily tracked flights by narrow-body passenger jets less than five years old are down by less than 16% year-on-year versus a fleet-level decline for single-aisles of nearly 35%, highlighting the extent to which airlines are turning to their youngest aircraft to cope with the collapse in demand due to the COVID-19 crisis.
At the opposite end of the scale, daily flights by narrow-bodies delivered more than 15 years ago have dropped by half as operators seek to minimize operating costs such as fuel and maintenance.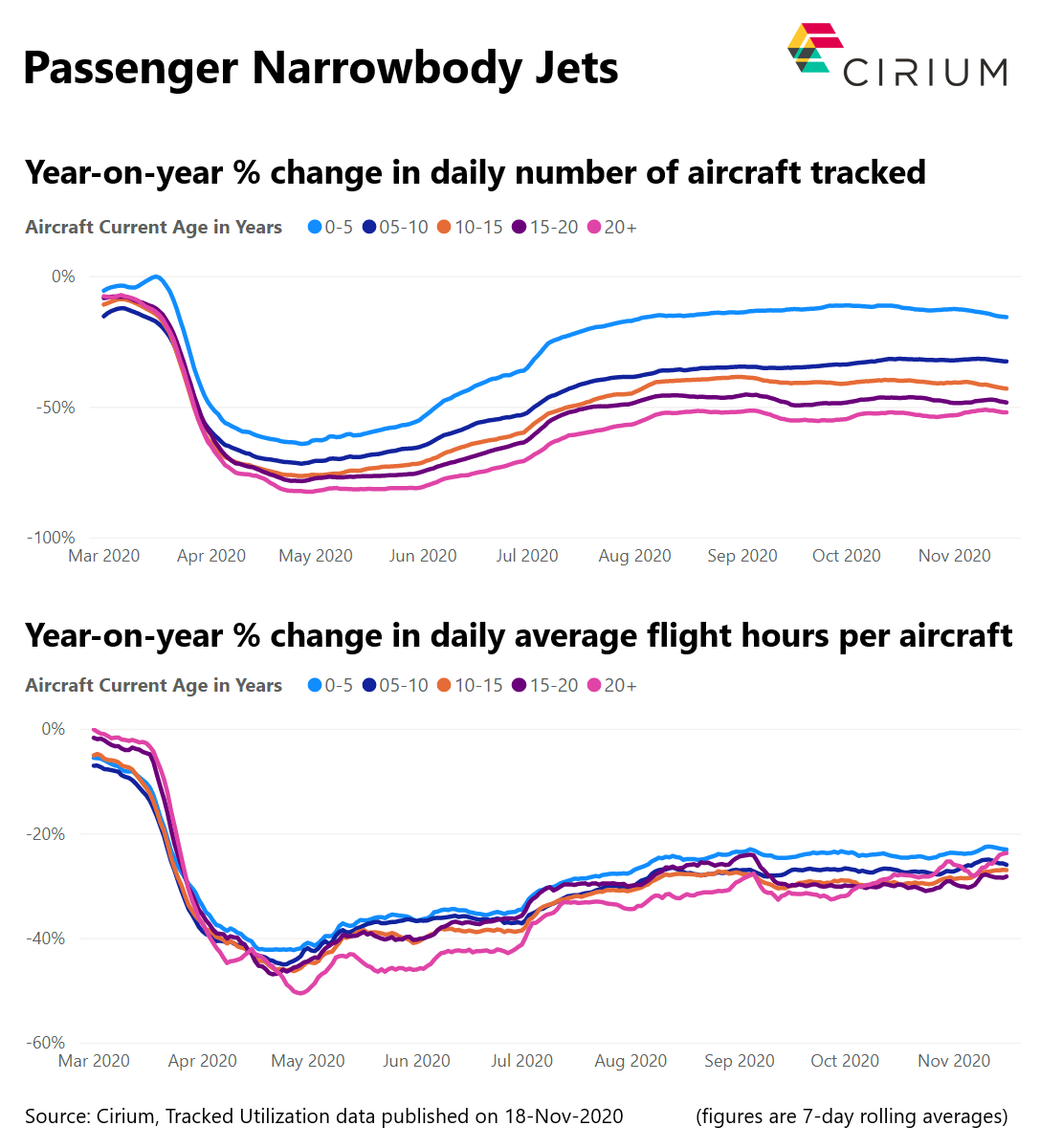 The gap in daily usage trends by age is less stark when measured by average daily flight hours per in-service aircraft, where sub five-year-old single-aisles are seeing 23% less airborne time versus 2019. This compares with a 28% deficit for 15-20-year-old examples.
Remaining active aircraft that entered service prior to 2000, however, are seeing somewhat of a renaissance with daily utilization consistently a few percentage points higher than their 15-20-year-old counterparts, potentially indicating a strategy by operators to run down remaining green time prior to retirement.
As of November 18 Cirium classified approximately 4,850 narrow-bodies as having in-storage status, representing just over 28% of the total fleet.
Aviation industry weekly update – November 12, 2020
Passenger jet flight activity tracks upwards in most regions but Europe struggles
Daily passenger jet flight activity has increased across most regions over recent days, with the recovery still led by Asia Pacific which on November 10 saw total arrivals down just under 36% compared with the equivalent day last year. North America was at -46%, followed by Latin America (-51%) and Middle East (-60%).
The notable exception was Europe where weekly average flight arrivals have dropped to nearly 67% below last year's level, setting the continent's recovery back to a level of decline last seen in mid-July. Rising Covid-19 cases and re-imposed national lockdowns in countries including France and the UK have prompted many of the region's airlines to further pare back capacity and return some aircraft to storage.
There remained a huge disparity in the level of international flights versus domestic, with cross-border services languishing at 76% below last year compared with -34% for intra-country operations.
At November 11 Cirium classified 31% of the global passenger jet fleet as having in-storage status, equivalent to just over 8,100 aircraft. However in Europe the proportion was over 35%, whereas only 21% of passenger jets operated by Asia Pacific carriers were inactive.
737-800 vs A320-200 asset values
Aviation industry weekly update – November 5, 2020
Market values and lease rates continue to slide down at a pace that exceeds what we observed in the 2001 and 2008 downturns.
First we review the Airbus A320-200 (5B/A5) values
Airbus A320-200 (5B/A5) Market Values fell by 10-23% due to a mix of lower part-out values and our observations of sales, bids and seller expectations. Values for the Sharklet-equipped model followed accordingly. Availability of aircraft for sale or lease spiked up over the summer and is at its highest level since August 2011. The oldest and youngest vintages declined by 10% while mid-vintages saw the largest drops in value. We are routinely seeing aircraft in the eight to 12-year-old range struggle to command much premium over their older siblings as there is very limited interest in flyers and the part-out buyer market currently lacks liquidity. There is a growing number of aircraft that have now been on the market throughout the summer, with very little interest and some extremely low bids and purchase offers. We have not matched our values to these low bids, but it became clear that it will be very difficult or impossible to sustain previous value levels. Values are significantly below those for the competing 737-800, and this is supported by lower flying activity, with the A320ceo fleet operating 61% fewer flights than a year ago, compared to a reduction of 46% on the 737-800. There is also no immediate freight conversion option for the A320 (unlike the A321 and 737-800), and while a future conversion is in the pipeline, interest so far has been limited. The part-out market has been saturated with spares inventory since Q1 2020 and most part-out companies have no interest in acquiring further A320s at the moment.
In comparison we review values for the Boeing 737-800 and Boeing 737-800SF
Boeing 737-800 Market Values fell by 1-15%, with the greatest declines being for older vintages due to lower part-out values and sales transactions observed. The youngest vintage only declined by 1% and the SLB market has still shown confidence in younger examples of the type. Most of the availability is for pre-2010 vintages, although some younger aircraft that came to market were successfully placed with new operators in a surprisingly short amount of time, considering the weak demand environment. Overall, despite the reduction in values, the type is benefitting from the delayed return to service of the Max, evidenced by the number of flights flown by 737-800s which are down 46% year-on-year, compared to the A320 which is operating 61% fewer flights than a year ago. There have also been sales for cargo conversion, with such buyers still offering to pay a meaningful premium over those looking to part-out. The demand for airframe and engine spares is still weak. Available aircraft for sale or lease spiked in August and are at their highest level recorded since we started tracking availability data in 2008. We expect additional surplus aircraft from restructured airlines to come to market in the fourth quarter, putting further pressure on values.
Boeing 737-800SF Market Values fell by up to 12% for older vintages while younger ones remained almost unchanged. It must be noted that values for younger vintages (up to 2010) displayed in our database are hypothetical as no younger aircraft have been converted yet. This is the first reduction in 737-800SF values since the start of the pandemic and is driven by lower feedstock prices. We still maintain some premium above "feedstock plus conversion cost" for aircraft that are already converted and ready to carry cargo immediately and take advantage of current strong demand, however this premium is not as great as it was earlier in the year when cargo yields were even higher. We believe that as more feedstock becomes available in the coming months and years, values are likely to settle at the level of passenger feedstock plus conversion cost.
Contact your Cirium representative to find out aviation asset values updates for the Boeing 747s, 767s, 777, 737 MAX Airbus A350s, A321, A319, A318, A330 and A340 aircraft types.
Having been nominated for the Aviation 100 Appraiser of The Year Award 2021, we're excited to share our latest achievements and impressive track record with the 10,000+ industry peers from airline, banking, leasing and engine-brokerage sectors taking part in this year's vote to name the winner.
We're here to help you
Discover how you can manage your investment decisions with Ascend by Cirium, aircraft appraisers of the year. Connect with our team of experts here.
---
The latest global international, inter-regional, intra-regional flight and in-storage status figures
Aviation industry weekly update – October 28, 2020
Cross-border intra-regional passenger jet flights have been disproportionately impacted by the collapse in international passenger demand, measured by year-on-year declines in daily available seat kilometers (ASK) flown, tracked aircraft and average flight hours per aircraft.
On Wednesday October 27, global international flight numbers were down nearly 76% compared with the equivalent day a year earlier, while domestic flights were down approximately 36%. However international intra-regional ASKs were well over 80% down, with nearly 80% fewer tracked aircraft registering 30% fewer daily flying hours on average, compared with October 29 2019.
By comparison, purely domestic ASKs were only a third down compared with last year, while average daily flying hours per aircraft were within 13% of 2019's figure.
Across all route categories airlines deployed significantly fewer aircraft at sharply lower rates of daily utilization, which coupled with the general trend toward shorter flights and smaller capacity aircraft resulted in proportionally greater declines in ASKs delivered.
There was an overall 2.6% week-on-week decline in the seven-day average for global passenger jet flights on October 27. All regions saw falls – led by Europe at -6% – with the exception of the Middle East which was up by 1%.
At October 27 Cirium classified 31% of the global passenger jet fleet as having in-storage status, equivalent to just over 8,100 aircraft.
---
Cirium data and analytics help organizations stay ahead of the curve.
---
Aviation industry weekly update – October 21, 2020
Europe's low-cost airlines have further scaled back their flight operations in recent weeks in the face of the continent's 'second wave' of COVID-19 cases and associated travel restrictions and quarantine requirements.
The principal operating divisions of Eurowings, Ryanair, EasyJet, Vueling Airlines and Wizz Air had collectively clawed their way back to fly more than 50% of 2019's level of scheduled flights on peak days during August, but as of October 20 this figure had sunk back to less than 28%.
Total daily flights by all European operators have declined by more 3,000 since the end of August on a seven day average basis, to below 9,500 at October 20. North America has recovered to August's level of just over 14,000 daily flights following a slight dip in September, although the outlook is challenging with COVID-19 cases on the rise in most US states. Asia Pacific operators registered daily flights exceeding 20,000 for a few days earlier in October but activity has subsequently fallen back slightly.
Worldwide, international flights remain down more than 75% globally versus 2019 while domestic markets have fared significantly better with a 36% decline. However the seven-day average for all flights is currently trending downwards, at -0.8% week-on-week as of October 20.
Cirium classifies 31% of the global passenger jet fleet as having in-storage status, equivalent to more than 8,100 aircraft.
---
Find out more about Cirium's data and analytics to stay ahead of the curve, here.