Aviation industry weekly update – November 25, 2020 
The A321neo – has bucked the industry trend to show year-on-year growth for weekly flights operated since late-September, hitting a nearly 7% improvement as of November 24.
A significant factor was that the in-service A321neo fleet grew by over half, from 257 aircraft in November 2019 to 392 by November this year. However seven-day rolling average daily flying hours utilization dropped by 25% over the period, from 9.7 at November 26 last year to 7.3 as of November 24 2020.
While the A321neo was the only type to post a year-on-year increase in total daily flights, its rolling weekly average figure was still well below 1,000, compared with the A320ceo at around 7,500 and the much larger Boeing 737-800 fleet which accounted for over 10,000 flights per day on average during the week to November 24.
The A320neo was the most utilized single-aisle type in terms of daily flying hours, registering a weekly average of 7.6 on November 24, while the 737-800 recorded just over seven. Boeing's direct competitor to the re-engined A320neo Family range – the 737 Max – is set to return to service later this year following its worldwide grounding in March 2019.
Meanwhile just over one tenth of the A321neo fleet is in storage – equivalent to 45 aircraft – while almost one third of the nearly 1,700 earlier-generation A321ceos are in-active. For the roughly equivalently-sized 737-900, slightly fewer than 100 examples or just over 17% are in storage, while 460 are active.
Narrow-body types have seen a faster recovery in operations than wide-bodies because global daily domestic flights have already recovered to approximately two thirds of the level recorded last year, while international operations continue to decline and are around four-fifths down on last year.
Cirium classifies approximately 31% of the global passenger jet fleet as having in-storage status. Although this figure has remained relatively stable for the past several weeks, it masks a significant level of churn as operators move aircraft in and out of service in an effort to minimize maintenance expenditures.
Aviation industry weekly update – November 18, 2020
Daily tracked flights by narrow-body passenger jets less than five years old are down by less than 16% year-on-year versus a fleet-level decline for single-aisles of nearly 35%, highlighting the extent to which airlines are turning to their youngest aircraft to cope with the collapse in demand due to the COVID-19 crisis.
At the opposite end of the scale, daily flights by narrow-bodies delivered more than 15 years ago have dropped by half as operators seek to minimize operating costs such as fuel and maintenance.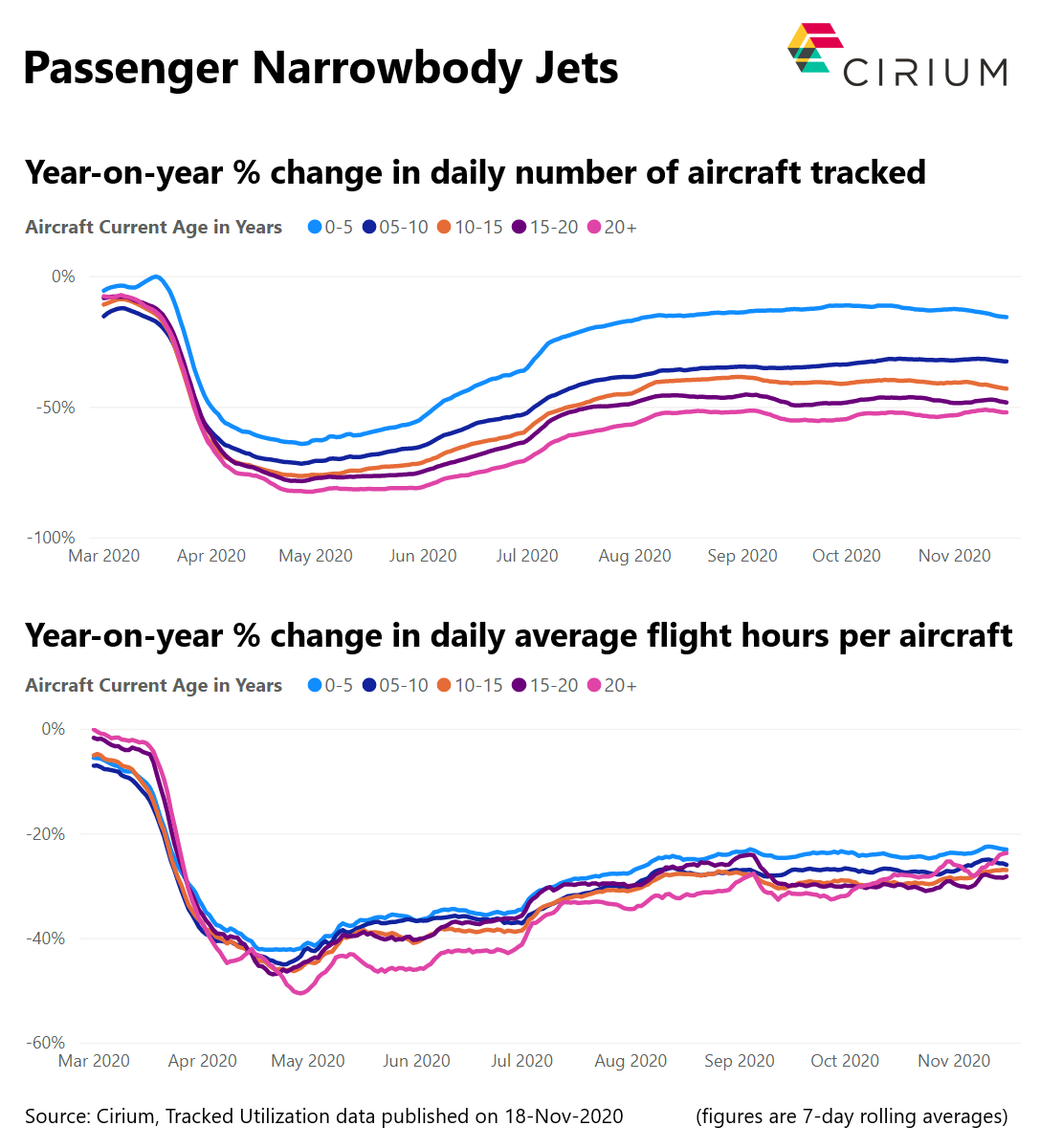 The gap in daily usage trends by age is less stark when measured by average daily flight hours per in-service aircraft, where sub five-year-old single-aisles are seeing 23% less airborne time versus 2019. This compares with a 28% deficit for 15-20-year-old examples.
Remaining active aircraft that entered service prior to 2000, however, are seeing somewhat of a renaissance with daily utilization consistently a few percentage points higher than their 15-20-year-old counterparts, potentially indicating a strategy by operators to run down remaining green time prior to retirement.
As of November 18 Cirium classified approximately 4,850 narrow-bodies as having in-storage status, representing just over 28% of the total fleet.
Aviation industry weekly update – 12/11/2020
Passenger jet flight activity tracks upwards in most regions but Europe struggles
Daily passenger jet flight activity has increased across most regions over recent days, with the recovery still led by Asia Pacific which on November 10 saw total arrivals down just under 36% compared with the equivalent day last year. North America was at -46%, followed by Latin America (-51%) and Middle East (-60%).
The notable exception was Europe where weekly average flight arrivals have dropped to nearly 67% below last year's level, setting the continent's recovery back to a level of decline last seen in mid-July. Rising Covid-19 cases and re-imposed national lockdowns in countries including France and the UK have prompted many of the region's airlines to further pare back capacity and return some aircraft to storage.
There remained a huge disparity in the level of international flights versus domestic, with cross-border services languishing at 76% below last year compared with -34% for intra-country operations.
At November 11 Cirium classified 31% of the global passenger jet fleet as having in-storage status, equivalent to just over 8,100 aircraft. However in Europe the proportion was over 35%, whereas only 21% of passenger jets operated by Asia Pacific carriers were inactive.
737-800 vs A320-200 asset values
Aviation industry weekly update – November 5, 2020
Market values and lease rates continue to slide down at a pace that exceeds what we observed in the 2001 and 2008 downturns.
First we review the Airbus A320-200 (5B/A5) values
Airbus A320-200 (5B/A5) Market Values fell by 10-23% due to a mix of lower part-out values and our observations of sales, bids and seller expectations. Values for the Sharklet-equipped model followed accordingly. Availability of aircraft for sale or lease spiked up over the summer and is at its highest level since August 2011. The oldest and youngest vintages declined by 10% while mid-vintages saw the largest drops in value. We are routinely seeing aircraft in the eight to 12-year-old range struggle to command much premium over their older siblings as there is very limited interest in flyers and the part-out buyer market currently lacks liquidity. There is a growing number of aircraft that have now been on the market throughout the summer, with very little interest and some extremely low bids and purchase offers. We have not matched our values to these low bids, but it became clear that it will be very difficult or impossible to sustain previous value levels. Values are significantly below those for the competing 737-800, and this is supported by lower flying activity, with the A320ceo fleet operating 61% fewer flights than a year ago, compared to a reduction of 46% on the 737-800. There is also no immediate freight conversion option for the A320 (unlike the A321 and 737-800), and while a future conversion is in the pipeline, interest so far has been limited. The part-out market has been saturated with spares inventory since Q1 2020 and most part-out companies have no interest in acquiring further A320s at the moment.
In comparison we review values for the Boeing 737-800 and Boeing 737-800SF
Boeing 737-800 Market Values fell by 1-15%, with the greatest declines being for older vintages due to lower part-out values and sales transactions observed. The youngest vintage only declined by 1% and the SLB market has still shown confidence in younger examples of the type. Most of the availability is for pre-2010 vintages, although some younger aircraft that came to market were successfully placed with new operators in a surprisingly short amount of time, considering the weak demand environment. Overall, despite the reduction in values, the type is benefitting from the delayed return to service of the Max, evidenced by the number of flights flown by 737-800s which are down 46% year-on-year, compared to the A320 which is operating 61% fewer flights than a year ago. There have also been sales for cargo conversion, with such buyers still offering to pay a meaningful premium over those looking to part-out. The demand for airframe and engine spares is still weak. Available aircraft for sale or lease spiked in August and are at their highest level recorded since we started tracking availability data in 2008. We expect additional surplus aircraft from restructured airlines to come to market in the fourth quarter, putting further pressure on values.
Boeing 737-800SF Market Values fell by up to 12% for older vintages while younger ones remained almost unchanged. It must be noted that values for younger vintages (up to 2010) displayed in our database are hypothetical as no younger aircraft have been converted yet. This is the first reduction in 737-800SF values since the start of the pandemic and is driven by lower feedstock prices. We still maintain some premium above "feedstock plus conversion cost" for aircraft that are already converted and ready to carry cargo immediately and take advantage of current strong demand, however this premium is not as great as it was earlier in the year when cargo yields were even higher. We believe that as more feedstock becomes available in the coming months and years, values are likely to settle at the level of passenger feedstock plus conversion cost.
Contact your Cirium representative to find out aviation asset values updates for the Boeing 747s, 767s, 777, 737 MAX Airbus A350s, A321, A319, A318, A330 and A340 aircraft types.
Having been nominated for the Aviation 100 Appraiser of The Year Award 2021, we're excited to share our latest achievements and impressive track record with the 10,000+ industry peers from airline, banking, leasing and engine-brokerage sectors taking part in this year's vote to name the winner.
We're here to help you
Discover how you can manage your investment decisions with Ascend by Cirium, aircraft appraisers of the year. Connect with our team of experts here.
---
The latest global international, inter-regional, intra-regional flight and in-storage status figures
Aviation industry weekly update – October 28, 2020
Cross-border intra-regional passenger jet flights have been disproportionately impacted by the collapse in international passenger demand, measured by year-on-year declines in daily available seat kilometers (ASK) flown, tracked aircraft and average flight hours per aircraft.
On Wednesday October 27, global international flight numbers were down nearly 76% compared with the equivalent day a year earlier, while domestic flights were down approximately 36%. However international intra-regional ASKs were well over 80% down, with nearly 80% fewer tracked aircraft registering 30% fewer daily flying hours on average, compared with October 29 2019.
By comparison, purely domestic ASKs were only a third down compared with last year, while average daily flying hours per aircraft were within 13% of 2019's figure.
Across all route categories airlines deployed significantly fewer aircraft at sharply lower rates of daily utilization, which coupled with the general trend toward shorter flights and smaller capacity aircraft resulted in proportionally greater declines in ASKs delivered.
There was an overall 2.6% week-on-week decline in the seven-day average for global passenger jet flights on October 27. All regions saw falls – led by Europe at -6% – with the exception of the Middle East which was up by 1%.
At October 27 Cirium classified 31% of the global passenger jet fleet as having in-storage status, equivalent to just over 8,100 aircraft.
---
Cirium data and analytics help organizations stay ahead of the curve. 
---
Aviation industry weekly update – October 21, 2020
Europe's low-cost airlines have further scaled back their flight operations in recent weeks in the face of the continent's 'second wave' of COVID-19 cases and associated travel restrictions and quarantine requirements.
The principal operating divisions of Eurowings, Ryanair, EasyJet, Vueling Airlines and Wizz Air had collectively clawed their way back to fly more than 50% of 2019's level of scheduled flights on peak days during August, but as of October 20 this figure had sunk back to less than 28%.
Total daily flights by all European operators have declined by more 3,000 since the end of August on a seven day average basis, to below 9,500 at October 20. North America has recovered to August's level of just over 14,000 daily flights following a slight dip in September, although the outlook is challenging with COVID-19 cases on the rise in most US states. Asia Pacific operators registered daily flights exceeding 20,000 for a few days earlier in October but activity has subsequently fallen back slightly.
Worldwide, international flights remain down more than 75% globally versus 2019 while domestic markets have fared significantly better with a 36% decline. However the seven-day average for all flights is currently trending downwards, at -0.8% week-on-week as of October 20.
Cirium classifies 31% of the global passenger jet fleet as having in-storage status, equivalent to more than 8,100 aircraft.
---
Find out more about Cirium's data and analytics to stay ahead of the curve, here.