READ ALL OF THE LATEST UPDATES FROM ASCEND BY CIRIUM EXPERTS WHO DELIVER POWERFUL ANALYSIS, COMMENTARIES AND PROJECTIONS TO AIRLINES, AIRCRAFT BUILD AND MAINTENANCE COMPANIES, FINANCIAL INSTITUTIONS, INSURERS AND NON-BANKING FINANCIERS. MEET THE ASCEND BY CIRIUM TEAM.
---
Virgin withdrawal from Hong Kong and the potential domino effect
by Tim Chun-Hing Li, Aviation analyst at Ascend by Cirium
While the Hong Kong authority is hoping that scrapping of hotel quarantine can attract the return of incoming travel demand, Virgin Atlantic decided not to play along and made a totally opposite move by completely withdrawing from the city, meaning the scheduled recommencement of services in March 2023 will now no longer happen. The airline states that the closure of Russian airspace leads to complexity in flight operations and hence is a key driver to its decision to cease service after almost 30 years. It has not mentioned whether the city's unreasonably strict approach to COVID-19 is one of the factors for the withdrawal. Even though many airlines have suspended passenger operations to and from the once Asian Financial Hub, since the pandemic, Virgin is the first one to make an announcement to permanently cut the route so far.
As the city's authority finally eased its COVID-19 travel restrictions, in contrast to Virgin's decision, Cathay Pacific and British Airways are either resuming or increasing flights on this route. A deeper look at Virgin's current route map shows that over the last few years, the airline has shifted focus southward in the Asian market. The closure of Russian airspace means detours must be made, costing extra fuel burn and flying time, eventually pushing up cost and inconveniencing passengers. This further eliminated the probability and feasibility of returning to the Orient. With the Hong Kong route dropped, there must also be questions over whether Shanghai service will return in March 2023.
London – Hong Kong has traditionally been a lucrative route. Virgin had to once compete with three other operators with direct services between the two cities at its peak. However, comparing to British Airways and Cathay Pacific, Virgin Atlantic has a significantly smaller fleet of just 36 widebody aircraft, with an additional 18 waiting to be delivered. Finnair, a Helsinki-based airline with similar widebody fleet at a scale of 21 aircraft and even more Oriental focus comparing to Virgin, has resumed its flight to Hong Kong and some more East Asian cities.
Nonetheless, closure of Russian airspace together with slow recovery of Asian market does exert huge operational pressure, from fuel burn, flight time to scheduling, and causes relatively greater impact to on these smaller-scale airlines.
Finnair, which used to position itself as a Euro-Asian connecting airline, is gradually opening up more westbound destinations across the Atlantic to mitigate financial losses as a result of the closure of Russian Airspace.
In addition to Virgin Atlantic, at least one other major European/American airline may follow Virgin's move and leave the city permanently, according to local media. Apparently, the Tamar's wishful thinking of recovery is getting less and less realistic, at least from the point of passenger air travel volume. On the other hand, Singapore is performing strong to become an international aviation hub and filling the void left by Hong Kong, as warned by IATA.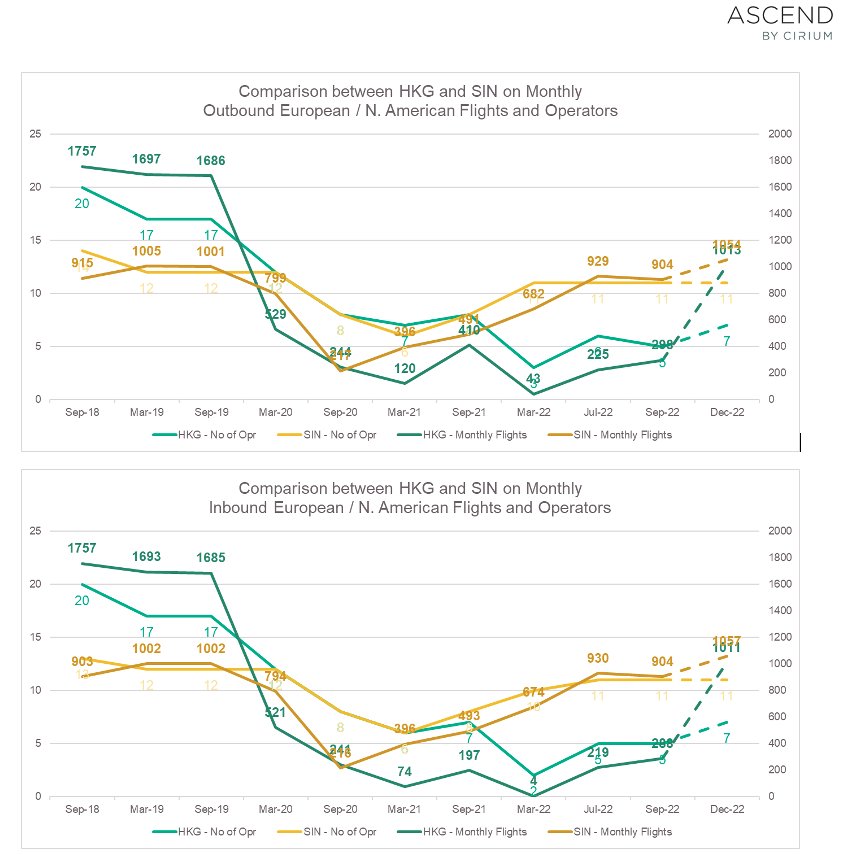 Singapore handled 7.3 million passengers in the second quarter of 2022, comparing to only 0.59 million by Hong Kong. The Lion city also outnumbered its lifelong competitor in terms of number of operators and number of routes to and from European and North American Destinations for the first time as it has nearly recovered to pre-covid level.
Even though Singapore is further away from both the European Continent and America and being less centric geographically, the early opening favors the re-operating of many Eurasian and Transpacific routes. On the other side, whether the Hong Kong International Airport could resume its former pre-covid glory is still yet to be determined. Lee Ka-chiu and his cabinet will have to take a further leap of faith for covid-free travel policies in order to retain Hong Kong's chance to take back its status of Asia's World City, at least in terms of being an international aviation hub.