By Mike Malik, Chief Marketing Officer at Cirium
Beaches, sunshine and warm weather? If that's what you're looking for, Canada might not be the best place. If you're an airline searching the globe for new routes to fly, however, Canada has a lot to offer.
Before the pandemic, Canada's airlines were some of the world's most aggressive in terms of adding new longhaul international routes, to points all over the earth.
Now that pandemic-era travel restrictions are easing, some of these carriers are starting to pick up where they left off.
Let's look back at some Canadian route development highlights using Cirium's Diio airline planning system, widely used by leading airline network planners around the world. Its data cover more than 99% of global airline schedules, going back 20 years and looking forward 11 months. Air Canada, it shows, was especially active in adding new international routes last decade. Between 2010 and 2019, it launched, for example, Toronto nonstops to Istanbul (2013), Venice (2013), Edinburgh (2013), Tokyo Haneda (2014), Milan (2014), Rio de Janeiro (2014), Lisbon (2014), Manchester (2014), Amsterdam (2015), Delhi (2015), Dubai (2015), Seoul (2016), Prague (2016), Budapest (2016), Glasgow (2016), Warsaw (2016), Glasgow (2016), Mumbai (2017), Berlin (2017), Buenos Aires (2018), Bucharest (2018), Porto (2018), Zagreb (2018), Vienna (2019) and Quito (2019).
That's just Toronto. Air Canada added many new routes from Vancouver as well (Delhi, Melbourne, Brisbane, Auckland, Nagoya, Taipei, Osaka, Frankfurt, Zurich, Paris and Dublin), and from Montreal (Shanghai, Tokyo, Sao Paulo, Lima, Casablanca, Algiers, Tel Aviv, Nice, Lyon, Venice, Lisbon, Marseilles, Bucharest and Bordeaux).
Air Canada's ambitious international expansion was supported by the unique geography of its hubs, Canada's large immigrant population and the carrier's own investment in new widebodies, a low-cost unit called Rouge, overseas joint ventures and a unique "sixth-freedom" strategy targeting travelers to and from the U.S. flying internationally via Canada. The airline now shows every sign of resuming its international ambitions as post-pandemic travel demand revives. It recently added a new Montreal-Delhi nonstop, for one. Even more unique is its new route connecting Vancouver to Bangkok.
By viewing Diio's Schedule Monthly Summary Report, you can see these and other route additions over time. In this case, we narrowed the analysis to just routes longer than 3,000 miles, to focus on Air Canada's longhaul expansion.
Air Canada wasn't alone, however, in chasing overseas demand.
Low-cost rival WestJet, unwilling to let Air Canada have all the fun, decided it too would target overseas markets. In 2017, it ordered widebodies for the first time (B787s), part of a major strategic shift upmarket, chasing corporate and premium fliers. Until its shift, the only flights WestJet offered beyond 3,000 miles were to Hawaii. In 2016, though, it began flying to London from multiple Canadian cities, followed by service to Paris, Dublin and Barcelona. Last summer, it added Amsterdam. In addition, thanks to the quirks of Canada's geography, WestJet (like Air Canada) was able to operate some sub-3,000-mile European flights with narrowbody planes. Halifax-Glasgow and St. John's-Dublin are examples. A few years ago, WestJet talked about perhaps flying to East Asia as well.
As Air Canada and WestJet battled across the Atlantic, a third Canadian competitor was right there in the mix. Montreal's Air Transat, owned by a tourism company, navigated the seasonal nature of Canada's airline business by allocating lots of capacity to sunshine markets like Florida and the Caribbean during winters, and to Europe during summers. As the Diio schedule database shows, one unique feature of Air Transat's transatlantic network is its large number of secondary destinations in France served from Montreal, like Marseilles, Lyon, Nice, Nantes and Toulouse. It has a few unique new routes this summer too, like Quebec City-London.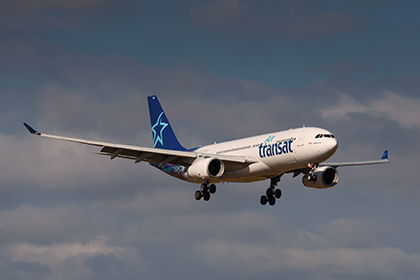 Things nearly got very interesting when Air Canada struck a deal to buy Air Transat just before the Covid crisis. Last year, the deal collapsed amid pushback from European competition regulators. Resigned to post-Covid rebuilding on its own, Air Transat is now eyeing more U.S.-Europe connecting traffic through eastern Canada, where it's building more schedule density and adding codeshare partners like WestJet and Porter Airlines. It's extremely bullish on its new A321neo-LR jets, which have the range to reach more of Europe from more of eastern Canada.
WestJet itself, meanwhile, hopes for regulatory consent for a takeover of Sunwing, a leisure carrier focused on Caribbean and Mexican beach markets. On the other hand, it appears to be retreating from its earlier intercontinental expansion, returning to its roots as a low-cost shorthaul carrier in western Canada. That's welcome news for Air Canada, which by contrast sounds every bit as bullish about international markets as it was pre-crisis. At an investor day event in March, its management revived talk of its "sixth freedom" strategy, its joint ventures and its new longhaul-capable aircraft, including A321 XLRs scheduled to start arriving in 2024. These are narrowbody planes tailored for transatlantic routes.
Canada's intercontinental air links, of course, are also boosted by foreign airlines.
Air France/KLM, aided by linguistic and historical links between France and Quebec, has more seats to Canada than any other airline outside of North America, Diio's data show. The Lufthansa Group and International Airlines Group are large in Canada as well. But the market is hardly just a draw for western European airlines. Look at any schedule in Diio and you'll see nonstop flights from Eastern Europe, East Asia, India, the Middle East, Turkey, Africa and Australia.
Wherever you are on a map, there's a chance you already have nonstops to Canada—or will before long.