READ ALL OF THE LATEST UPDATES FROM ASCEND BY CIRIUM EXPERTS WHO DELIVER POWERFUL ANALYSIS, COMMENTARIES AND PROJECTIONS TO AIRLINES, AIRCRAFT BUILD AND MAINTENANCE COMPANIES, FINANCIAL INSTITUTIONS, INSURERS AND NON-BANKING FINANCIERS. MEET THE ASCEND BY CIRIUM TEAM.
---
By Youcef Berour Minarro, Principal Valuations Analyst, ISTAT Certified Appraiser at Ascend by Cirium

The Turkish General Elections are now going into round two this week and it isn't the only thing causing lots of noise.
Joining the ranks of airlines that have placed sizable and important orders in the last few months including Air India (470), Ryanair (300), Saudia (39) and Riyadh Air (39); Turkish Airlines is set to jump to the top of the order podium with an earmarked order for 600 aircraft next month. With just a few weeks to go until IATA's Annual General Meeting & World Air Transport Summit (AGM) 2023, held in Istanbul; and under a month to go until the Paris Air Show, Turkish Airlines chairman, Ahmet Bolat hinted last week that Turkish Airlines is set to order 600 new aircraft in June.
Whilst the airline has not specified the aircraft models in question yet, the chairman stated that the order would consist of 400 narrowbody and 200 widebody aircraft, delivering over the next ten years. If the order materialises, it will mark the largest order by a single airline, surpassing Air India's order for 470 aircraft in February 2023.
This ties in nicely with Turkish Airlines' latest 10-year strategy, vision and targets announced in April which includes;
Aiming to achieve a consolidated revenue of over 50 billion USD by 2033
Contributing 140 billion USD of added value to Türkiye's economy by 2033
Expanding its fleet to 435 aircraft by 2023 and to over 800 aircraft by 2033
Growing its passenger network to 400 destinations
Doubling the passenger capacity in 2023 by 2033 with an annual average growth rate of 7%
Servicing 170 million passengers by 2033 compared to over 85 million in 2023,
Doubling the transported cargo volume and positioning Turkish Cargo among the top three cargo carriers globally by 2033
Leveraging the capabilities of its cargo hub, SmartIST, which is one of the largest air cargo terminals in the world
Where East Meets West, and the gateway to Russia
At the confluence of East and West, Türkiye is well situated strategically providing easy access to Europe, Asia and Africa; making Istanbul a strong contender for connecting traffic against other hubs in Europe and Middle East.
It is also worth noting that Turkish Airlines; (excluding airlines from former Soviet countries like Armenia, Serbia and Azerbaijan); remains the only "western / NATO" airline with ongoing travel corridors to and from Russia. Turkish Airlines currently accounts for 4% of all seats flying in/out of Russia, more than double that of Emirates and flydubai combined.
Russia remains an important market for Turkish Airlines which can be evidenced by the increased capacity (seats) for 2023, an increase of 162% compared to May 2022 (presumably absorbing the lost capacity due to the war) with the Russian market now equating to 4% of the total seats for the network, of which a good proportion of this demand will be coming from Russians looking to get some beach & sun (from the only country that is really accessible to them). What would be really ironic and interesting is the possibility of seeing some of these routes between Turkey and Russia being operated by the four ex-Aeroflot A350-900s which Turkish Airlines took delivery of last summer.
Market leader in Turkey
Turkish Airlines' current in-service fleet consists of 338 passenger aircraft (63% narrowbody / 37% widebody), split between Airbus and Boeing, with Airbus holding the majority of the split since 2008, now currently at 58%.
Turkish Airlines operates the largest fleet in Europe (and ninth largest in the world behind China Eastern Airlines) with just over 350 aircraft; naturally dominating the Turkish market with a market share of over 50% of all seats to/from Turkey; followed by LCCs Pegasus and SunExpress.
There are currently 155 aircraft on order for Turkish operators, with Turkish Airlines accounting for almost half of this backlog, and the Airbus A321neo making up over 60% of this backlog. Turkish Airlines' largest aircraft order of 169 aircraft was last placed in 2013 consisting of 159 narrowbodies and 10 widebodies, of which 70% of this order has been delivered, with 24 A321neo aircraft from this order still remaining on the backlog to be delivered.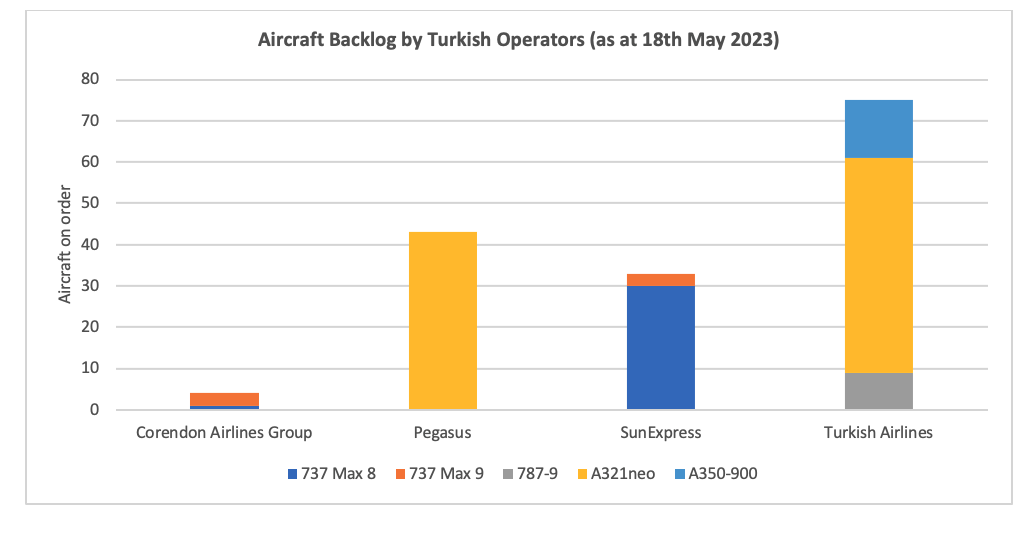 Potential replacements?
This order appears to follow a recurring theme which we are seeing more of from airlines looking to lock in future supply of aircraft, possibly triggered from flashbacks of supply chain nightmares which they may have been exposed to in the last few years. Whilst this is certainly a proactive stance in managing future supply for matched demand, like all things, there is of course a risk involved including inflation and escalation uncertainties. In addition to this, there is the added risk of technology obsoleteness from an environmental perspective once this new batch of aircraft are finally delivered in the next ten years, especially if the industry continues to be serious about hitting net zero by 2050.
With the airline hoping to grow its fleet to over 800 aircraft by 2033, the influx of new aircraft would naturally consist of growth as well as future replacements for the existing fleet. Looking at the age profile below, the logical types which would end up being replaced as part of the proposed order for would most likely include the early A320s and A321ceos, 737-800s and A330s; which some have already surpassed the 20 year mark.
---

LEARN MORE ABOUT CIRIUM FLEETS ANALYZER – SEE MORE ASCEND BY CIRIUM POSTS.