The COVID-19 pandemic shelved serious discussions in our industry about anything other than the pandemic. Sustainable aviation—a pre-pandemic focus for global airlines and oft-discussed at conferences, airshows and in the media—has been far from top of mind.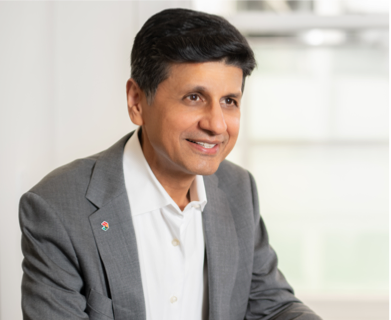 The tide will turn quickly, I suspect, with green initiatives a main beneficiary of the post-pandemic travel industry. The pandemic was a highly effective—if unexpected—agent for change through accelerated fleet retirement and renewal at airlines around the world. Comparatively fuel-inefficient aircraft have been sold off or parked in the desert, and are likely to sleep there forever. Indeed, some 18 months of reduced operations opened our eyes to how blue the skies could be without so many planes crisscrossing the globe and industries in hiatus.
Public company disclosure of carbon emissions
Measuring sustainability is not a new challenge, but it hasn't been adequately addressed in the aviation industry.
A constant refrain from Cirium's clients is how to help them measure their sustainability efforts and develop consistent, reportable data that can be disclosed by airlines and manufacturers to their investors.

Mike Malik, Chief Marketing Officer, Cirium
Leading corporations like Coca-Cola, Amazon and Apple may very well demand this data for their disclosures and to satisfy investors and other stakeholders. Publicly traded companies are increasing their efforts to disclose to investors "material" information. The determination of what is "material" is left to the public company, and its management as the best arbiter of what factors have a true impact on the business and would be considered important to a reasonable investor. Increasingly, investors seek information on environmental, social and governance (ESG) "to help them understand risks to the company's financial performance or other issues, such as the impact of the company's business on communities," as noted in a 2020 report by the U.S. Government Accountability Office (GAO) on disclosure by public companies of ESG data. (PDF)
The airlines reviewed in the GAO report disclosed emission reduction measures with base years, ranging from 1990 to 2017. That means some airlines measured their current emissions impact, against emissions from the last century. (I can't remember the last time I flew on a Boeing 727, can you?) In sum, the survey found no clear methodology to disclosure of measurements of the impact from green initiatives.
Looking at future trends, we know this is going to change. Fuel burn contributes about 2% annually to global emissions, which is comparatively low. However, fuel burn is among the fastest growing contributors, particularly as fleets double in size every 20 years. We also know that measuring and reporting on aircraft greenhouse gas emissions doesn't present a full picture of environmental impact. It's much broader and could encompass:
Use of renewable energy
Air, water and resource depletion
Waste management
Biodiversity affects
Energy efficiency
The International Air Transport Association is confident the industry's stretch goal of halving CO2 emissions by 2050 compared with 2005 is achievable, while net-zero emissions from air transport could be reached a decade or so later.
Cirium is working on a 360-degree view of flight, by passenger
As we noted in last year's Airline Insight Report, Cirium is working hard to fuse many different data sources including aircraft specifications and performance, flight status and tracking and airline schedules, to provide a standard and better picture of emissions performance by operator, aircraft type or geographical region, as well as on a historical or forward looking per-seat basis. We wrestle with data every day. Measurement of emissions and developing uniform standards is an important piece of this puzzle.
Our calculations consider actual airframe and engine series, winglet type, aircraft seat configuration, aircraft age, and actual taxi time and air minutes. We also adjust for each aircraft's typical operating weight, passengers and baggage, cargo payload and degradation in engine efficiency. Coupling this with our real-time air navigation data, we effectively have a 360-degree view of every flight.

Mike Malik, Chief Marketing Officer, Cirium
We estimate our fuel burn match rate for wide-body aircraft is 99.8%. So, we are confident we can calculate the best fuel burn for any specific flight. No use of generic indices are needed.
These insights will empower industry stakeholders to quantify and understand the environmental impact of their operations. We're now planning to merge emissions data with passenger booking information. We'll be able to match each passenger and provide them with their own carbon footprint, which gives corporations far more control and understanding of their impact on the environment. The possibilities for informed travel decision making are endless.
More posts on sustainability in the airline industry
Is this the new way for aviation to track carbon emissions?
Aviation sustainability momentum continues
Greener on the other side — aviation sustainability trends