March 22, 2022 – At a ceremony at the Delta Technical Operations Center in Atlanta, Cirium awarded Delta Air Lines the 2021 Platinum Award for Operational Excellence. John Laughter, EVP and Chief of Operations, Tim Mapes, SVP and Chief Marketing & Communications Officer, and Don Mitacek, SVP Delta TechOps & President Delta TechOps Services Group received the Award and were joined by Jeremy Bowen, Cirium CEO, Mike Malik, Chief Marketing Officer, Kirk Nagy, Commercial North America, and Lydia Webb, On-Time Performance Manager.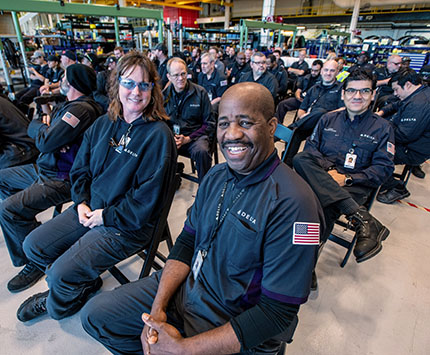 The Platinum Award for Operational Excellence for airlines is awarded for outstanding performance considering the complexity of the airline's operations, volume of flights, diversity of its network and other key operational factors.
---

Delta Air Lines was the world's best performing airline operationally in 2021 and received the Cirium Platinum Award for Operational Excellence. I was intrigued with its achievement and wanted to learn more. What does Delta do differently and on such a scale that places it so far ahead of other airlines? Let's find out.
The Platinum award reflects the carrier's extraordinary operational success, despite the immense complexity of its operations, the vast geographic diversity of its flight network and the sheer enormity of its flight schedule.
The numbers speak for themselves: Last year, nearly 88% of more than 500,000 Delta flights arrived on time. Its flight cancellation rate? Astonishingly less than 1%.
As we know, 2021 was not an easy year to operate an airline. The COVID-19 pandemic continued to wreak havoc on schedule planning, crew availability, and border restrictions.
The growing prevalence of extreme weather didn't help, yet Delta still maintained its long record of industry leadership in operational integrity. This success, in turn, is a significant part of why Delta also has a long record of industry leadership in profitability. Last year again, Delta outperformed its closest peers, United and American, posting significantly milder loss margins. In just the final quarter of last year, Delta ascended to a $344M operating profit while United and American lost more than $600M and $900M respectively.
How exactly does Delta consistently achieve operational performance worthy of a Platinum Award?
The reasons are many.
Start with employee relations. Delta was early in offering front-line staff financial rewards when the airline met designated operational goals. Even in 2020, the worst year financially in airline industry history, the carrier awarded more than $70M in employee payouts for meeting goals in areas like punctuality, flight completion and baggage handling. Emphasizing "shared sacrifice," Delta—when the pandemic first arrived in 2020—cut work hours across the company by a quarter. About a fifth of the workforce left voluntarily, and this saved enough money for the company to avoid any U.S.-based involuntary layoffs.
Executive compensation, too, is tied to operational performance. In fact, executives don't receive their full incentive payouts in years when employees don't receive profit sharing checks. From 2015 to 2019, Delta shared $6.5B of its profits with employees. There were naturally no profits to share in 2020. This January, however, despite losing money in 2021, the company announced a $108M payout to recognize the profits earned in the fourth quarter. Also last year, full work schedules were restored for all employees, even with capacity still sharply down from pre-pandemic levels.
Rival airlines with less financial success simply can't match Delta's level of employee compensation, nor the extent of its efforts to shield staff from revenue shocks like the COVID-19 crisis. It's long been vocal too, on the need to recruit workers from diverse backgrounds. It's no wonder that CEO Ed Bastian recently told Wall Street: "We are not having any problems at all at Delta hiring and getting great pools of candidates. It's viewed as the premium airline to employees."
It's not something that can be precisely quantified, but Delta's amicable labor relations surely explain part of why its operations run so smoothly. It's not the only explanation though.
Without doubt, it helps to have excellent partners. For Delta, these include the airports it serves, its regional partners, its international partners and even the U.S. government. Atlanta, arguably the world's most profitable hub, is well-designed for operational efficiency. SkyWest, which operates many of Delta's domestic flights, has long been considered a leader in operational performance. Delta works closely with allies like Air France/KLM, Korean Air, AeroMéxico, WestJet, Virgin Atlantic, LATAM, and China Eastern. And in some cases, it has ownership stakes and antitrust immunity with these airlines, allowing for deeper and more expansive levels of coordinated operational planning. A good example of its work with Washington, meanwhile, is a recently announced partnership—an exclusive partnership—with the Transportation Security Administration (TSA). It allows passengers with both TSA Pre-Check and SkyMiles membership to pass through selected hub airports without ever showing a paper boarding pass or physical government ID. All it takes is "one look at a camera" to verify a person's digital identity.
All the while, Delta is investing heavily in upgrading and expanding airport infrastructure in its most important markets. It opened what's essentially an all-new airport in Salt Lake City last year. It's debuting revamped New York LaGuardia Airport facilities this spring. Also, this spring, its Los Angeles airport terminal gets an upgrade. New Seattle facilities will open later this year. Next year comes a major upgrade to New York JFK. In total, Delta is investing $12B of its own money into U.S. airport projects, making them more user-friendly and more conducive to running a smooth operation. In fact, it accelerated work on these projects during the pandemic, when quieter terminals made for easier construction.
Delta is the only major U.S. airline to operate a for-profit maintenance division, while performing much of its own maintenance in-house. Other U.S. airlines, some looking to avoid costs and inefficiencies associated with union contracts, outsource maintenance to a far greater degree. Delta TechOps, by contrast, typically earns strong profits from maintaining airframes, engines, and components for other airlines. At least as importantly, it gives Delta engineers a high level of expertise in the airline's fleet, providing opportunities to design solutions and work practices tailored to its own needs. In 2018, Delta claimed it had an approximate 20% maintenance cost advantage versus competitors.
The airline has a unique approach to fleet planning as well, often favoring used and older planes. As recently as 2018, the average age of its mainline jets was 16.6 years, according to Cirium Fleets Analyzer. United's planes were only 14.5 years old. American's youthful fleet averaged just 11. Nevertheless, that same year, Delta achieved an 86% on-time rate, according to DOT statistics, resoundingly beating United's 80% and American's 78%. Fast forward to 2022, and Delta's fleet is more modern, with an average age of 14.9 years. That's still older than American's 12.4 figure, but younger than United's 16.6.
Indeed, during just the past two years, Delta's average fleet age dropped by two years. "We got two years younger going through the pandemic," said Bastian at the company's capital markets day event in December. It achieved this by accelerating retirement of about 200 older and less efficient planes, including all remaining MD88/90s and B777s. Nor is it done.
Delta intends to fly just nine fleet types by 2025, down from 13 just before the pandemic started.
As Cirium Fleets Analyzer shows, it has 233 new planes on firm order, all of them A330s, A320/21s and A220s. Consistent with past practice, it's seized the opportunity presented by depressed prices to grab some used planes as well, notably some A350s acquired at a "significant bargain."
There's another key to Delta's operational excellence: its aggressive investment in technology. Examples include software that more accurately predicts weather, machine learning to help with optimal crew pairing optimization and planning, biometrics to improve the passenger experience throughout airports and even "parallel reality" and "exoskeletons," two technologies Ed Bastian announced in a presentation he delivered at the Consumer Electronics Show in Las Vegas just before the onset of COVID-19.
Can Delta repeat its feat in 2022? Will it earn another Platinum Award?
The operating environment isn't getting any easier. COVID-19 continues to stress crew resources. Schedule changes are frequent as demand reacts on short notice to new virus variants. Regional pilot shortage plagues the industry. Airport contractors are understaffed. Border regulations remain in flux. New health protocols are in place. Storms are becoming more frequent. Delta, furthermore, like other airlines, is emerging from the pandemic with lots of newly hired workers. That's good for costs, but will it make it more difficult to run an on-time airline? And one more thing: Delta's transition to newer planes is also a transition to larger planes, which take longer to turn with more people to board and more bags and provisions to load.
But there are no signs yet of Delta losing its edge. In November, Delta cancelled 5,325 flights. Southwest cancelled more than 22,000, United nearly 24,000 and American nearly 34,000. A Platinum performance once again!
——-
Lastly, if you are like me and passionate about the airline industry, and want to read more about Delta and it's rise to becoming number one, pick up a copy of "Glory Lost and Found: How Delta Climbed from Despair to Dominance in the Post-9/11 Era" by Seth Kaplan and Jay Shabat. (ISBN:9780996990103)
Further reading:
Delta News Hub: Delta people key to Cirium award win for operational excellence
Harvard Business Review (video interview): Delta CEO Ed Bastian on Leading an Airline Through Two Years of Pandemic Disruptions

Cirium Thought Cloud: Delta Air Lines named as the world's best performing airline of 2021