READ ALL OF THE LATEST UPDATES FROM ASCEND BY CIRIUM EXPERTS WHO DELIVER POWERFUL ANALYSIS, COMMENTARIES AND PROJECTIONS TO AIRLINES, AIRCRAFT BUILD AND MAINTENANCE COMPANIES, FINANCIAL INSTITUTIONS, INSURERS AND NON-BANKING FINANCIERS.
MEET THE ASCEND BY CIRIUM TEAM
---
By Herman Tse, Aviation analyst at Ascend by Cirium
Even though China has enjoyed remarkable success containing the pandemic through 2020 and 2021, in December 2021 we emphasized ongoing risk in the highly volatile Chinese aviation market. The recent situation in China illustrates that this concern was valid. The highly transmissible Omicron variant of COVID-19 is now spreading widely across China. The COVID-19 situation continues to worsen since March, with more than 510,000 confirmed cases between 1 March and 19 April 2022. The number of confirmed new cases remains high at over 20,000 per day in recent weeks. Air traffic demand is severely impacted by intensified COVID-19 restrictions. According to Cirium data, the number of completed scheduled flights in recent weeks reached the lowest levels since the beginning of the pandemic in late January 2020. Scheduled flight cancellation rate increased to almost 70% on a daily basis.
Chinese flight tracking
One of the key drivers for the huge decline in air traffic is that impacted areas are very broad under the latest outbreak. New confirmed cases have been reported in every province, except in Tibet. There are many asymptomatic COVID-19 infections, meaning it is extremely difficult to locate and isolate all those infected to achieve the 'dynamic zero-Covid' goal. Local governments have therefore imposed strict measures to stop transmission of the virus. Many cities are or were under virtual lockdowns, which means domestic travel within China is severely restricted. The number of daily domestic departures at major airports were frequently reduced to single digits during the lockdown period. Economic activities are severely impacted, particularly in Shanghai, which has been in lockdown for a month. Production at many factories has been suspended and numerous business meetings are cancelled. Consequently, the number of domestic flight departures reduced fundamentally. Other major cities such as Beijing are also affected, albeit the number of confirmed cases remains relatively low for now. Beijing domestic flight departures dropped from 600 per day to fewer than 200.
China domestic flight trends in major cities
According to the National Health Commission of the People's Republic of China, the COVID-19 situation in China has stabilized after a series of lockdown and containment measures. Dynamic zero-Covid remains the target, although this can prove challenging. Strict measures are expected to continue in the near future at least. Looking ahead, China Labour Day Golden Week of 30 April – 4 May is just around the corner. Historic data shows that there were small traffic peaks on the first and the last day of this holiday. However, this is unlikely to be seen this year.
Despite an increase in the current May 2022 schedule, much of this capacity is likely to be removed based on recent cancellation rates. The number of daily China domestic flights during the holidays could decline below 2020 levels. Multiple headwinds continue to derail the Chinese aviation market recovery, and international traffic continues to be weak. Uncertainty about the COVID-19 situation remains and new variants of COVID-19 could impact the industry extensively. China's aviation market will continues to face a "bumpy ride" to recovery.
China Labour Day Golden Week flight trends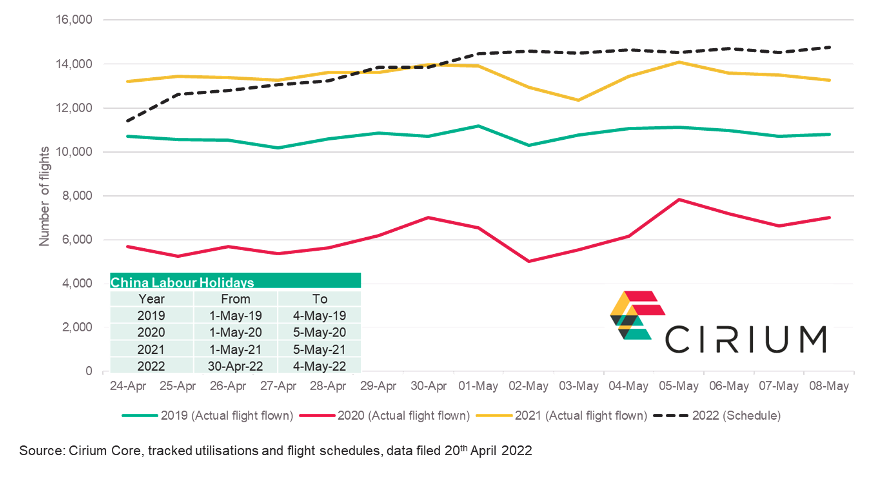 ---
SEE MORE ASCEND BY CIRIUM POSTS.