The On-Time Performance Review 2022
See the winners of The 2022 Annual Review
Cirium releases the 2022 On-Time Performance Review for airline and airport operational performance
---

Congratulations to Delta Air Lines for their excellent punctuality performance in Cirium's 2022 On-Time Performance Review for North America, getting their passengers to their destination on time across North America as the market revived during 2022. Ramping back up operations so quickly after an enforced slowdown is not easy to do…

– Jeremy Bowen, CEO at Cirium
Delta Air Lines celebrates its second straight year as Cirium's Platinum Award winner for global operational excellence. Read the announcement, here.
It's time to celebrate the winners of the 2022 On-Time Performance Awards
Cirium On-Time Performance
Airline on-time performance is defined as an aircraft arrival at the gate under 15 minutes of the scheduled arrival time. Airport on-time performance is measured by on-time departing flights. Cirium's on-time performance reporting for airlines is the longest-standing analysis in the industry, going back over 14 years.

The On-Time Performance 2022 Review and monthly reports provide airports, airlines, and the traveling public with a neutral, third-party view of which airlines are delivering on their promise to get passengers from point A to point B on-time.
The Monthly On-Time Performance Reports
In addition to the annual Report, Cirium publishes monthly airline and airport OTP Reports. Download here.
The Cirium Airline and Airport On-Time Performance Board
Cirium is the first and only company that has an OTP Advisory Board, comprised of industry experts with an unbiased view of the industry. The board of advisors' oversight ensures accuracy and proper representation of all the information we present.
2022 Winners Award Presentations and Ceremonies
Iberia was named Europe's most punctual Mainline and Network airline. An award ceremony took place at the Fitur 2023 – International Tourism Trade Fair in Madrid, Spain on January 18 2023.

An award presentation took place on January 25th and 26th, 2023 during the Delta LEAD 2023 Conference at the Mercedes Benz Stadium in Atlanta as Delta Air Lines was named most punctual North American airline in both the Mainline and Network categories and Platinum Award winner for Operational Excellence.

On March 1, 2023, the Cirium team visited Azul Linhas Aéreas Brasileiras. Azul Airlines was named the most punctual Global and Latin America's most punctual airline in both the Mainline and Network categories. The celebratory event was held in their state-of-the-art maintenance hangar. The backdrop featured an Airbus A350-900 and displayed the Cirium seal of excellence.
Bookmark this page for more awards to come. See More Photos from theSE events.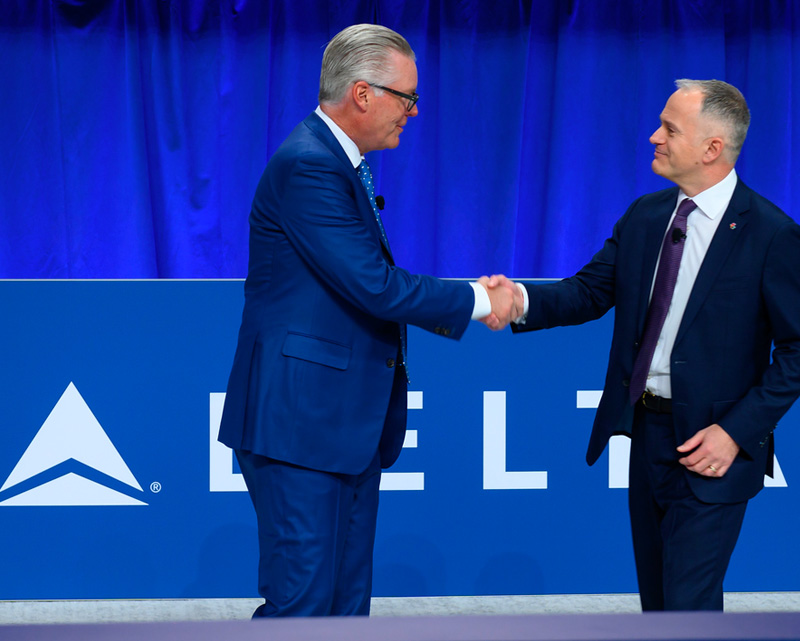 ---
2021 Winners Award Presentations and Ceremonies