By Mike Malik, Chief Marketing Officer at Cirium
Ten years ago, Iberia was a troubled airline. In 2013, Spain's largest airline would record its third straight annual operating loss. Low-cost rivals were attacking its short-haul and medium-haul markets. (Cirium figures show Ryanair alone grew seat capacity from Spain by nearly 60% between 2009 and 2012!). Iberia was losing passengers to high-speed rail as well. Fuel prices were high. Demand was also pressured by the eurozone's debt crisis.
Then, however, came a major turnaround, with the help of some major mergers. In 2009, Iberia joined its low-cost Clickair subsidiary with Vueling, taking a 46% ownership stake in the combined airline.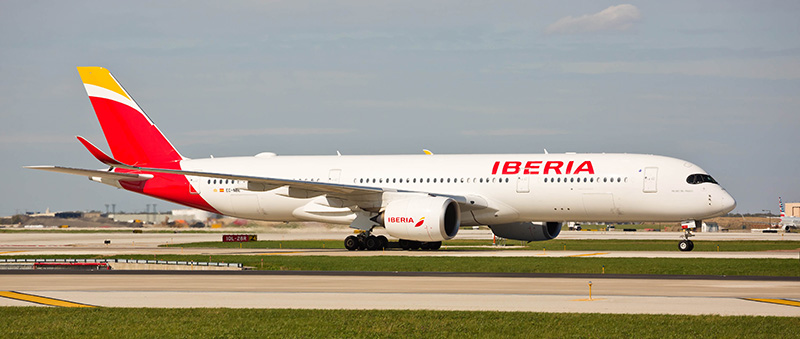 More importantly, Iberia merged with British Airways in 2011, creating the International Airlines Group (IAG).
Four years later IAG took full control of Vueling, strengthening the group's position in Spain. It later started a low-cost Spanish longhaul carrier called Level.
Iberia, meanwhile, unveiled a "Plan de Transformación" that aggressively cut costs, trimmed shorthaul capacity, improved service, and fostered a new low-cost unit called Iberia Express. The creation of IAG brought additional synergies, including a stronger loyalty plan and a stronger joint offering with its US oneworld alliance partner American. In addition, Iberia even during its most difficult years had an important ace card to play: Its powerful Latin America network from Madrid.
As data from Diio by Cirium show, Iberia flew to 16 different airports in the Latin/Caribbean region during 2013, nine of them in South America.
In 2014, Iberia was making money again, and operating profits increased with each passing year. Until, that is, Covid arrived. Like almost every airline worldwide, Iberia suffered heavy losses in 2020, and again in 2021. Last year, however, it was back on track, with summertime profits almost fully restored to 2019 levels. Passenger revenues during last year's third quarter, in fact, exceeded those achieved three years earlier. Premium leisure demand was especially strong. Spain's airline market, furthermore, has enjoyed a faster-than-average recovery thanks to strong inbound tourism.
This leaves Iberia well-positioned as it begins 2023, with its troubled past now a fading memory. But it's hardly done with trying to make itself even stronger.
It's now hoping to secure a new agreement to buy Spanish rival Air Europa, which itself has a strong Madrid-based network to Latin America. The two had a merger agreement in place just prior to the pandemic, but changed circumstances led to the agreement's cancellation in late 2021. If there's a new agreement, one obstacle would be approval from competition regulators. Iberia has said a merger would enhance Madrid's hub status, enable more routes, and protect jobs.
As developments with Air Europa unfold, Iberia and its CEO Javier Sánchez-Prieto continue to renew the airline's fleet and add new services. Iberia recently co-located in the same New York JFK airport terminal as its partner American Airlines. It's also adding new business class suites on longhaul flights. Four-engine A340s are no longer active.
As of January 2023, Diio by Cirium shows Iberia with 6% more seats this quarter (January to March) than it had in the same quarter of 2019. This includes an 18% increase for Iberia Express. The airline's busiest route by seats, looking at next quarter when seasonal traffic picks up, is Madrid-Barcelona. Ranked by ASMs, though, its busiest route is Madrid-Mexico City. Iberia will offer nine US destinations (including San Juan) from Madrid this summer, four of them from Barcelona as well. It now offers 17 destinations in Latin America and the Caribbean. Prior to the pandemic, it flew to Tokyo and Shanghai as well.
What's next for Spain's largest airline? More routes to the Americas? A revival of routes to Asia? Keep up to date with data from Diio by Cirium, the industry's leading airline planning system.