READ ALL OF THE LATEST UPDATES FROM ASCEND BY CIRIUM ANALYSTS AND CONSULTANTS, EXPERTS WHO DELIVER POWERFUL ANALYSIS, COMMENTARIES AND PROJECTIONS TO AIRLINES, AIRCRAFT BUILD AND MAINTENANCE COMPANIES, FINANCIAL INSTITUTIONS, INSURERS AND NON-BANKING FINANCIERS.
MEET THE ASCEND BY CIRIUM TEAM

---
By Herman Tse, Aviation analyst at Ascend by Cirium
The Chinese domestic market has been widely hailed as the fastest of to recover since the beginning of the pandemic. Following the onset in February and March of 2020, the market had rapidly returned to 2019 levels by the summer of 2020, albeit with some ups and downs along the way.
However, volatility remains high because of the continued risk of COVID-19. Through-out the early phases, local governments were extremely cautious and uncertain regarding how to react to sporadic outbreaks. Consequently, regional lockdowns and inter-province travel restrictions limited air traffic significantly.
Today, relevant government departments in China are far more experienced in managing the situation and are thus able to identify cases quickly helping to avoid large outbreaks and to minimize the industry impact.
Further, more than 76% of the population in China has received at least a first dose of COVID-19 vaccine. However, air travel demand remains highly linked to the COVID-19 situation. Whenever and wherever there is an outbreak, airlines adjust capacity immediately to address the rapid decline in passenger demand. Once the outbreak is contained and travel is possible once again, passenger demand returns rapidly. As a result China domestic seat capacity remains typically around 20% above 2019 levels, in stark contrast to other domestic or intra-regional markets which largely remain below those levels and are in some cases as much as 60% down over 2019.
Global flight schedules trend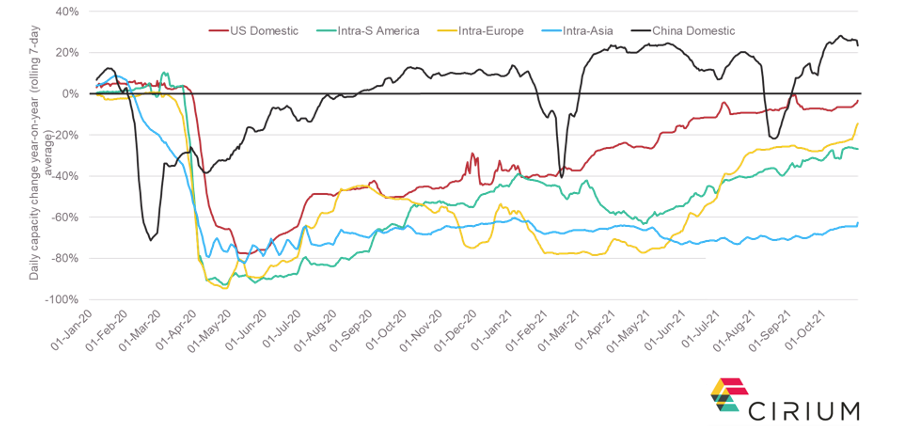 The Chinese market remains subject to government policy. Unlike the Chinese New Year earlier this year, the government has not encouraged the population to refrain from travel during the forthcoming national holidays. People are thus more than happy to return home for celebrations with their families.
Air traffic demand is therefore expected to peak during the China Golden Week of 1-7 October. Cirium's flight schedules shows that planned China domestic seat capacity exceeds both 2020 and 2019 level by 9% and 22% respectively. Airlines appear optimistic about the holiday surge, even though international borders and quarantine requirements remain in place in many foreign countries.
Beijing, Shanghai, Guangzhou, Shenzhen and Chengdu are the most popular destinations, accounting for more than 27% of total capacity between them.
However, after the long holiday, capacity and traffic are not expected to continue to grow significantly in the near term. We do not see any major drivers of further demand, despite the high vaccination rate in China. China's zero-Covid policy conflicts with the approach of the United States and many European countries, which have similar high vaccination rates but appear to be moving towards a co-existence with the virus. With these conflicting policies, it seems there is still a long way to go before quarantine-free international travel can become widespread. For some time to come, domestic travel will continue to be the critical market for Chinese airlines.

China domestic arrival seat capacity trend