AIRLINE AND LESSOR PROFILES
Comprehensive news and fleet data
Cirium Profiles provides a visual, interactive and up-to-date fleet overview, as well as the latest news on more than 1600 airlines, and 300 lessors. With Cirium Profiles, aviation professionals can quickly view an airline or lessor's fleet breakdown and ensure they are up to date with the latest news via their mobile, tablet or desktop.
Get instant access to a single overview of an airline fleet or lessor portfolio. Rich data and dynamic visualizations make it easy to find stories, and provide high-quality commercial output for sales, marketing, or strategy purposes without learning a new software platform.
Cirium Profiles is available within Fleets Analyzer™ or Dashboard or can be purchased as a standalone product.
Request further information on Cirium Profiles

More aircraft
View all aircraft associated with an airline, not just those that they operate.
Lessors
View the lessor's supplying the airline, and the aircraft on lease from each.
Airlines
View the lessor's clients, and the aircraft each client has on lease.
Ownership
See the airline's fleet breakdown by various types of ownership: unencumbered owner operator, operating lease, finance lease, etc.
Age
A simple average can only tell you so much: clearly view the age distribution across aircraft types to see the full picture.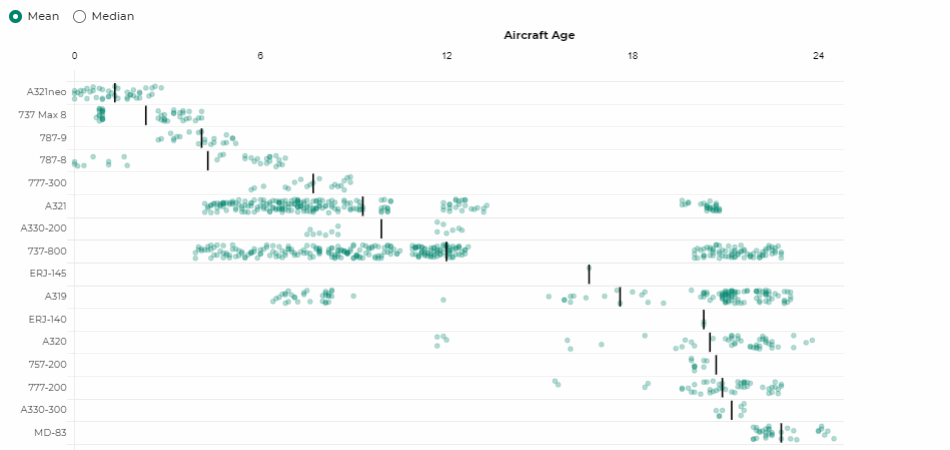 Enhanced Capabilities
Speed
A find-as-you-type list enables you to locate your desired airline or lessor quickly, with the full fleet summary loading in less than 0.2s on most systems.
Grouping, pivoting
Choose the grouping option you prefer from any of the following: manufacturer, family, type, master series and series.
Filtering
Filter by any of the following: operator, status, manufacturer, family, market class, type, engine series and ownership.
Visualizations
With so much more data on the page, it's important that you can spot key information quickly, so each table has an associated visualization.
News
Easily view the latest news on each airline and lessor, gathered by a global team of journalists.
Understand the why
The structured data of the fleet summary gives you the what, but it's the news that gives you the why.
No need to search
Our journalists tag all articles with the relevant airlines and lessors, so there's no need to search.
Convenient
Swipe through your clients' most recent news stories from your mobile while traveling to client meetings.
Product options
Cirium Airline Profiles are included with Cirium Dashboard and Cirium Fleets Analyzer. Dashboard clients will access the standard version* and Fleets Analyzer clients the premium version & Lessor Profiles.
All versions are available as standalone products.
*Dashboard clients should contact their account managers if they are interested in upgrading from the standard to the premium version of Airline Profiles.
| Feature | Airline Standard Profiles | Airline Premium Profiles | Lessor Profiles |
| --- | --- | --- | --- |
| News | X | X | X |
| Aircraft status | X | X | X |
| Age | X | X | X |
| Related lessors/airlines | | lessors | airlines |
| Ownership | | X | X |